Introduction
The Ruler Analytics and Delacon integration allows you to attribute your inbound call leads
received via Delacon within your Ruler Analytics dashboard.
Connecting Delacon and Ruler Analytics can give you a full view of your marketing activity
and allow you to connect the dots between offline and online marketing events.
What does it do?
When you integrate Delacon and Ruler, you can get more detail on your inbound leads.
Instead of just getting the lead source of that direct phone call, you can connect that user to
previous marketing touchpoints.
Plus, when that lead closes into revenue within your CRM, Ruler can scrape it and attribute
the right amount back to the original visitor, the call they made on your site, plus any other
marketing touchpoints they had.
This event and revenue value can then be sent from Ruler Analytics into your ad platforms
such as Google Analytics, Google Ads, Facebook Ads and Bing Ads as well as any of your
Power BI and reporting tools, ensuring you have a full picture of your revenue attribution.
How does this work?
Using Webhooks between Delacon and Ruler Analytics, Delacon can trigger a post call
webhook to Ruler Analytics to upload the call as an event.
Using the Google Client Id (GCLID), Ruler is then able to attribute the call to the original
visitor and their journey on site.

You can also dig deeper into the visitors whole journey on your website across multiple
sessions.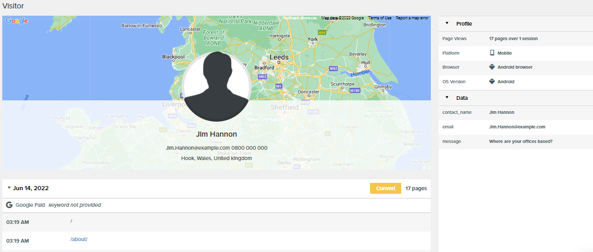 This view will allow you to see a chronological view of the pages and content that this visitor
has engaged with. Plus, you'll be able to see any conversion events including phone calls, form
fills, or live chat sessions.
Set-up and Configuration
To set up the integration with Delacon's Call Tracking software and Ruler Analytics, please follow the below steps.
1. Contact Ruler Analytics
In order to integrate with Delacon, Ruler Analytics must provide a webhook endpoint URL for your account. Please contact their support as per this article
2. Connect your webhook URL in the Delacon portal
To push Delacon data into Ruler Analytics, please follow the instructions here to add the webhook URL