There are various levels of access available to the Delacon portal to allow the appropriate flexibility for managing your Delacon products. You can assign additional logins to access your Delacon account eg for different departments within your company or your external marketing agency.
Delacon offers three different types of logins:
This is the main login for the account and will be set up with the e-mail address provided in your application form. It will be the main point of contact for Delacon and will receive account related information such as invoices or top-up notifications.
The login gains full access to the entire account incl. reporting, service overview, configuration pages, billing, classic and new portal.
Some access restrictions are possible eg hiding the billing information.
The login can only ever access one MID
The login can be IP restricted to allow access only from approved location
To change the login, please contact Delacon Support
A valid email address is required for this login type
2. Agency login/Super User
The agency login has the same access level as the MID login, but allows access to multiple MIDs. The various accounts will be accessible through a drop-down menu at the top-right corner.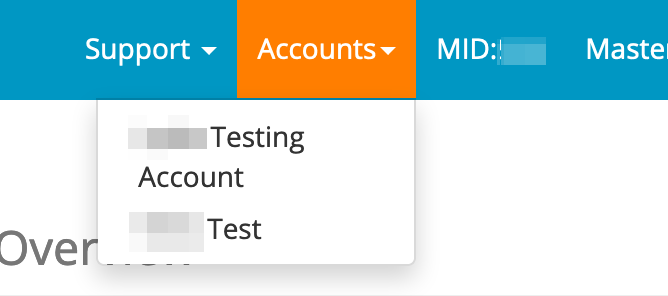 There are no access restrictions possible for this type of login.
Unlike the MID level login, the agency login will

not

receive any account related information such as invoices.
All logins with access to an account will show up in the account's super user list
The login can be IP restricted to allow access only from approved location
To add or remove a login or access to an account, please contact Delacon Support
A valid email address is required for this login type
This login can access one or multiple CIDs within one account (MID).
The access level for these logins is fully customisable:

It can gain access to the reporting, service overviews and configurations pages, but no access to billing information
Allow manage or read only access

This login type can be created within the portal under the User Configuration Feature by any MID level login.
These logins can also be white labelled
A valid email address is required for this login type
| | | | |
| --- | --- | --- | --- |
| Login type | MID login | Agency login | User login |
| Access Depth | 1 MID | 1 or more MIDs | 1 or more CIDs within 1 MID |
| Access level | Admin | Admin | read only or manage to all or parts of the portal (excl billing) |
| creation | by Delacon Support | by Delacon Support | via Delacon portal |
| IP restriction possible | yes | yes | yes |
| billing point of contact | yes | no | no |
Related Articles