Step One – Creating conversions
In GA4, conversions are equivalent to a goal in previous Google Analytics versions. This can be set against the call tracking event, which will complete a conversion for every call received. To create a conversion for more specific criteria, an Audience Trigger can be configured to create a new custom event.
Conversion Configuration – All calls
Select Configure in the left-hand sidebar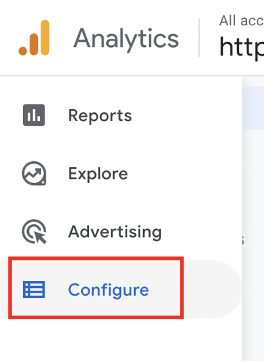 Select Conversions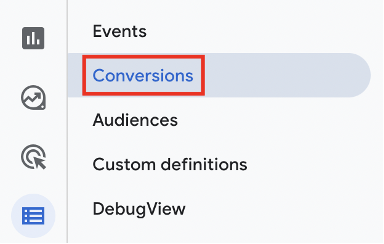 Under Conversion Events select New Conversion Event
Enter calltracking as the event name, then click Save

The calltracking (all calls) conversion event is now configured and can be toggled on or off as needed.

Conversion Creation – Specific Call Criteria (Audience Trigger)
Select Configure in the left-hand sidebar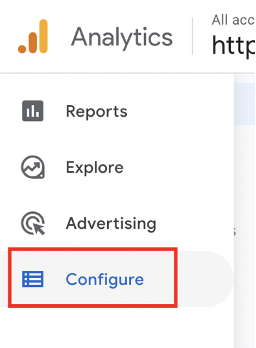 Select Audiences
Select New Audience

Select Create a custom audience

Here we will determine the conditions for the new Audience. In this example we will create an audience only for calls that are marked as a Sales call through the DTMF Description parameter.
Add a Name then select the calltracking event and then select Add parameter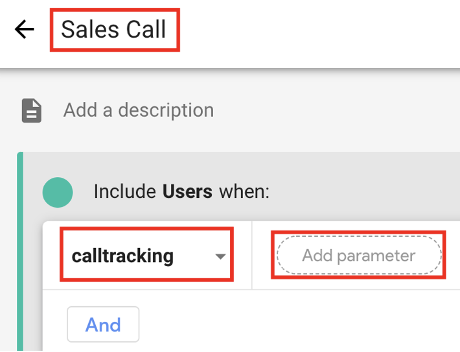 Select Delacon DTMF Description and under Conditions select Contains and then enter Sales. Click Apply.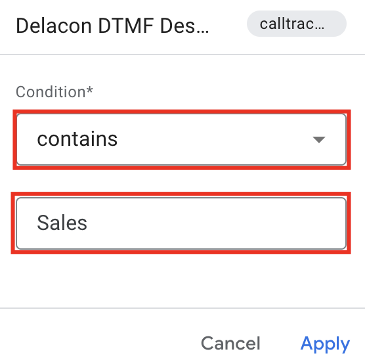 Under Audience Trigger click Create New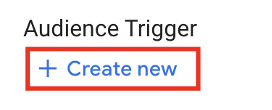 Add a relevant unique Event name then click Save
Click Save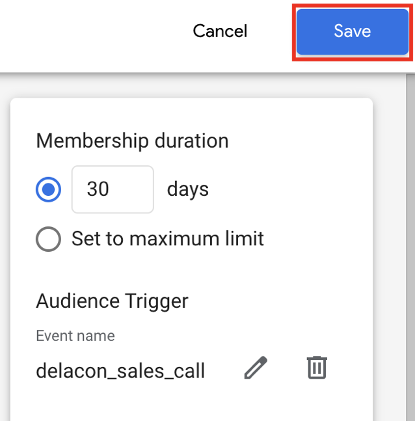 The new Audience will now be displayed.

To create the conversion event for the new audience follow the steps above under Conversion Configuration – All calls, but replace the calltracking event name with the event name created in the new audience (in this example delacon_sales_call)

Conversion events can be seen within Google Analytics, and can be imported into Google Ads using the instructions found here: https://support.google.com/analytics/answer/10632359
Step Two– How to import GA conversions into Google Ads
Instructions
Sign in to your Google Ads account.
In the top right, click Tools and Settings .
Go to Measurement > Conversions.
In the top left, click Conversion.
Click + New conversion action.
Click Import, select Google Analytics 4 properties, then click Continue.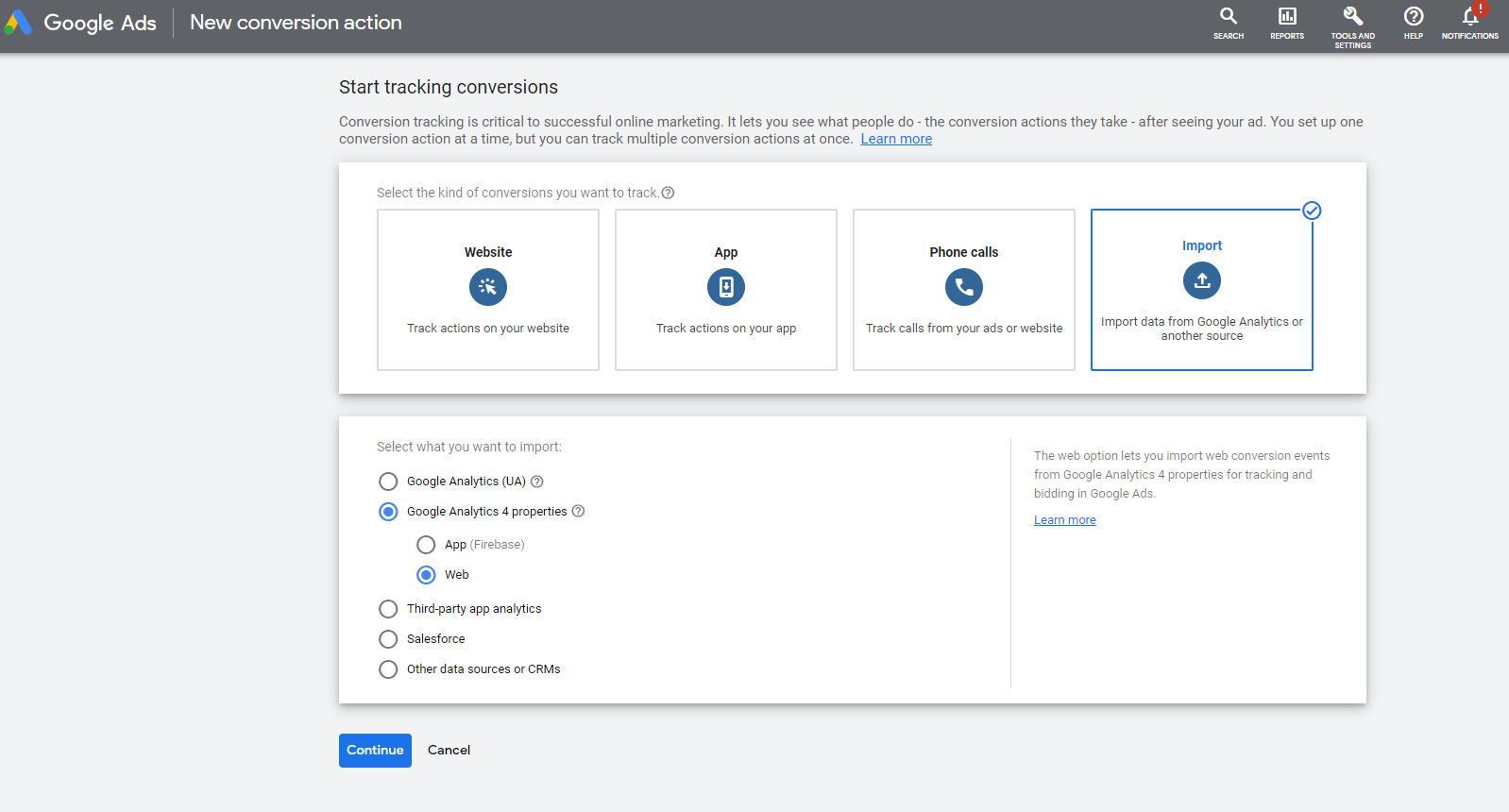 7. Select each conversion event you want to import, then click Import and continue.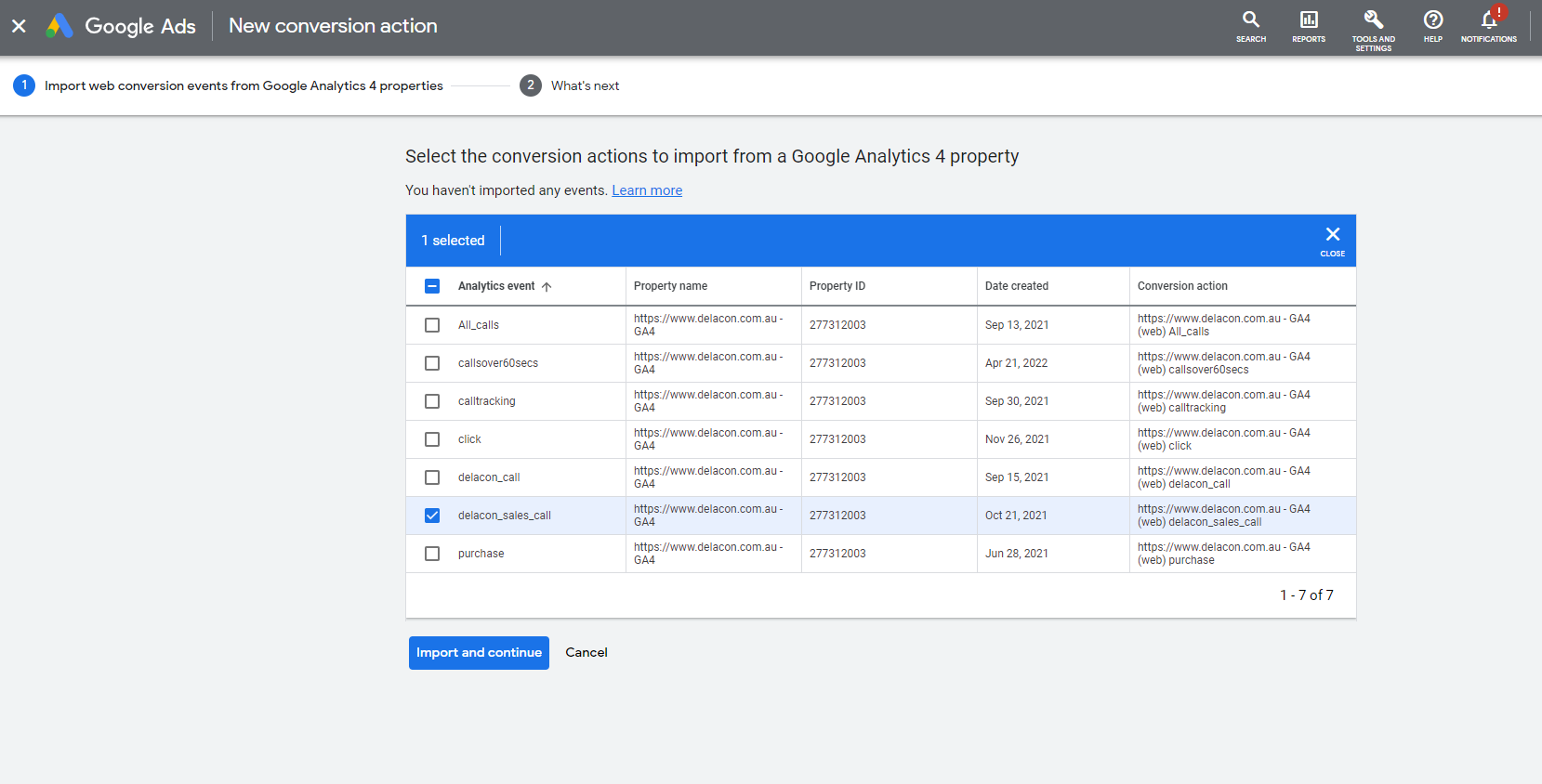 8. To use the goals for optimisation, set imported goal to primary or is included in account level goals

9. Click Done.
You may wish to change the goal category to begin checkout if its sales intent on the IVR and you would like to use campaign specific goals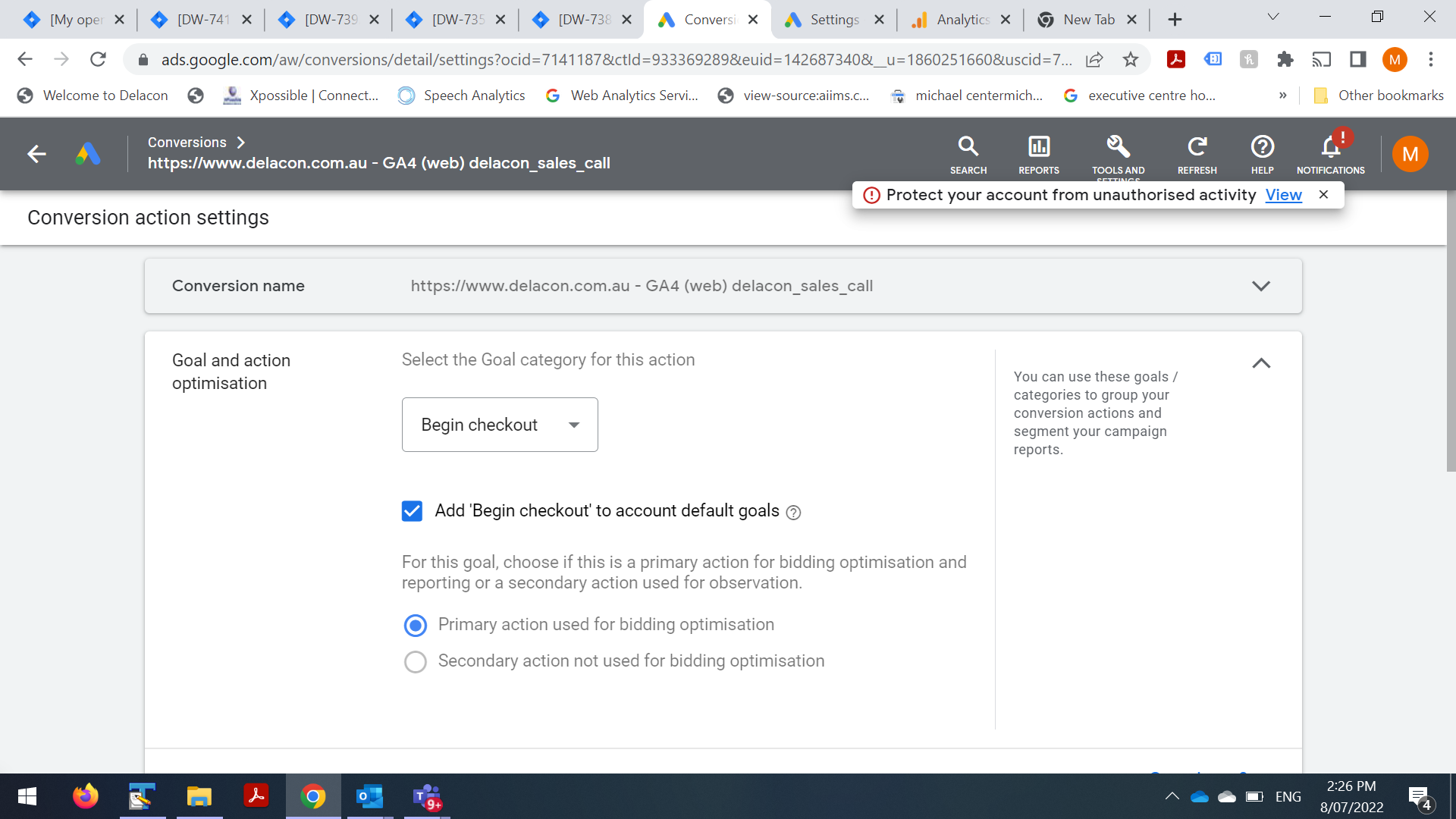 How to Optimize in Google Ads to the Delacon sales IVR Conversion
---
This guide below will demonstrate how to optimize how to use target CPA in Google Ads with Delacon's IVR data.
To set conversions as primary so they can be used for account level goals see (add link) otherwise follow the steps below for campaign-specific goal settings.
To edit an existing campaign
Step 1
Sign in to your Google Ads account.
On the page menu on the left, scroll down and click Settings, then click Campaign settings.
Select the campaign by clicking on the campaign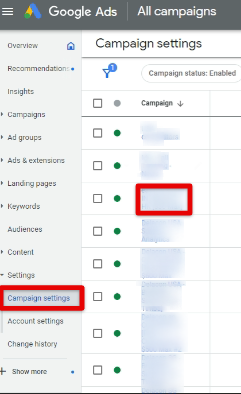 4. Click on goals to expand your campaign goal settings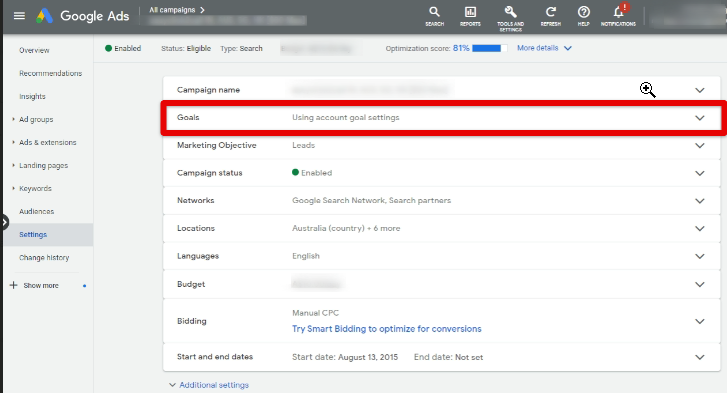 Campaign Goals
1. Select use campaign-specific goal settings and choose campaign goals
2. Select goals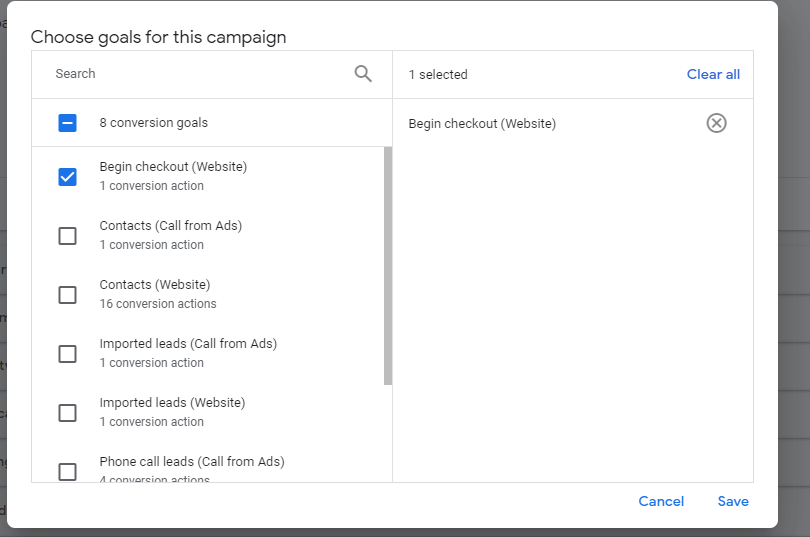 3. Click Save
Bidding
From the campaign settings select bidding
1. Select Bidding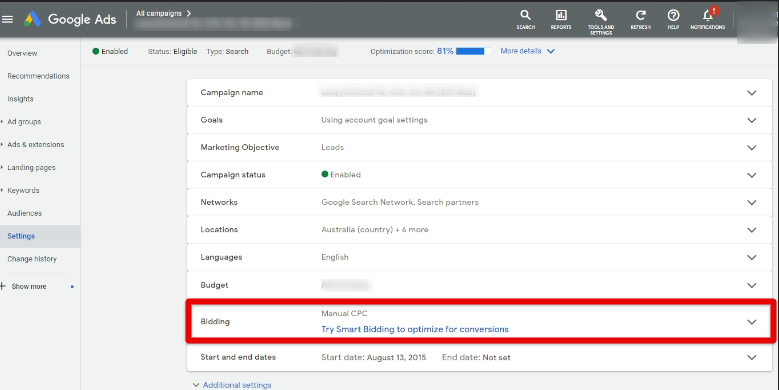 2. Select maximise conversions from the drop down menu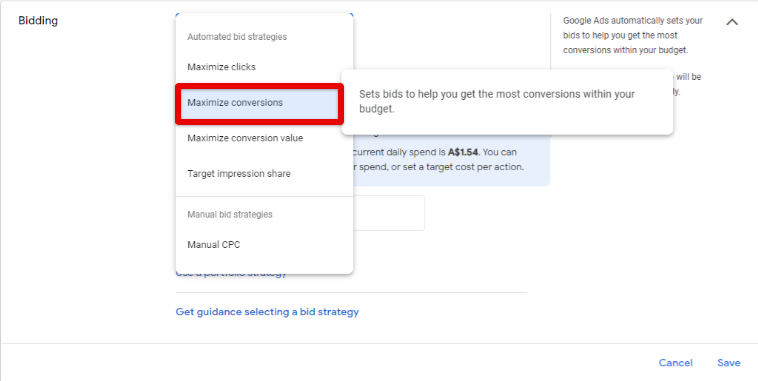 3. For more information please read here https://support.google.com/google-ads/answer/7381968