If you are using Delacon's SMS360 service and wish to send bulk SMS to multiple clients from your Delacon mobile number, this can be achieved by uploading a CSV (comma separated values) file in the Delacon portal.
Please be aware that this feature is currently available for Australian mobile services only.
To send bulk SMS from your account
Log into your Delacon account here
Under the Services menu, click Upload Bulk SMS.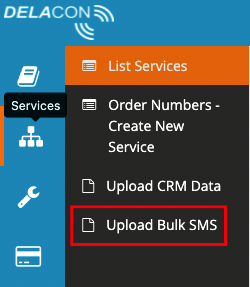 Under Service ID (CID) select the Delacon mobile service you wish to send the SMS messages from.

Click to Choose File and select the prepared CSV file (see below) from your local PC, then click Upload.

Once the file has been uploaded the processing status can be viewed by clicking on Current Status

Preparing the CSV file
The CSV file used for bulk SMS uploads needs to be carefully prepared so it is in the correct format. An example of this is below, defining firstly the recipients number and secondly the content of the message.
0400000000,This is the first test message
+61411111111,This is the second test message
Recipient Number
-Only Australian mobile (04) phone numbers can be entered
-The number needs to be formatted in local format (04xxxxxxxx) or E.164 formatting (+614xxxxxxxx)
Message Content
-Maximum 160 characters (includes spaces and punctuation)
Please consider the following when creating the CSV file:
-When creating a CSV file using Microsoft Excel (or other spreadsheet software) the first zero of the number may be lost when the number is entered in the local format (eg 0400000000 becomes 400000000). This issue can be avoided by using E.164 formatting (eg +61400000000). If the local number format is used, the file should be reviewed in a text editor (eg Notepad, not Excel) before it is uploaded.
-The file should not contain any column header information, the first line should contain the first record to be uploaded
-The maximum file size is 2MB