The Delacon Website Visitor Logs Report displays a record of all the visitors to your website, regardless of whether they made a call to a Delacon Tracking number.
You can access the report in the New Delacon Portal.
Step 1
Once you are logged in, click on the Reporting icon, and then open the Activity Report drop-down menu. Then select Website Visits.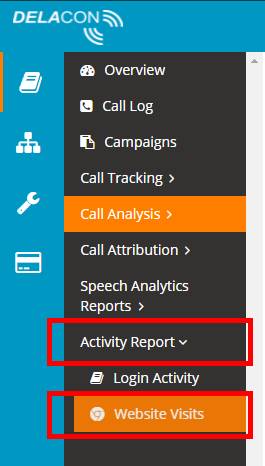 Step 2
Define the parameters of the report. You can define the date range for your report using the date selection menus. To limit your report to specific CIDs, click on the Select Services button, and select which services you would like to include in the report by clicking on the individual selection buttons next to the services.

Click the Submit button to apply your changes.
Step 3
Your report will display in the window. To view more details about each visit, click the small down arrow in the first column of the report.
The report will display the following information:
Number Return
The telephone displayed to the visitor.

If the service has dynamic numbers, this field will show the particular number displayed to the visitor. If there is only one single number associated with the service, the report will display that number. Alternatively, the report will display the business number if the visitor came from a non-tracked source (for example, if the service is tracking paid media only, but the visitor came to the site directly).

Date
The date on which the visit occurred.
Time
The time that the visitor landed on the landing page.

Service ID

The Delacon Service ID associated with the web session.
Search Engine
The search engine that the visitor used to find your site. This will also display if the visitor's source was direct, referral, social media, etc.
Search Type
The type of search, i.e. paid, free (organic), etc.
Keywords
If the visitor came from a paid search result, the keyword used will be displayed. For free (organic) search, no keyword is recorded.
Landing Page
The page that the visitor landed on.
You can also export the report to a CSV file by clicking the Export button at the top of the report.