Introduction
---
Delacon's White Label Solution allows you to tailor our partner portal to suit your own brand, including coloring and logo.
This is a great way to maintain brand consistency when selling our solution to your clients.
In order to make this portal available to your clients, there are some setup steps you will need to follow.
Please note, this guide takes you through the steps of white labelling the Delacon portal. To white label the e-mail address from which notifications are sent to the client, please refer to this guide.
Step 1: Purchase an SSL Certificate
---
Before our setup work can begin, we require you to purchase an SSL Certificate and provide this to us.
What is an SSL Certificate?
SSL is a security feature that enables encrypted communication between web servers and web browsers. Essentially it decreases but does not entirely remove, the risk of sensitive information from being compromised or stolen.
An SSL Certificate is a certificate that is installed on the server-side to allow access.
Please note you will be required to manage this certificate including renewal upon expiry.
Where can I purchase an SSL certificate from?
An SSL Certificate can be purchased from a Certificate Authority
Once purchased, you will be required to:
1. Select the domain name you want to use the SSL certificate for.
2. You will be required to point your domain at our IP address. Please contact us to get the IP address.
3. Delacon will then generate a Certified Signing Request (CSR) on our server. In order to do this, we require
the below information from you:
Common Name: The fully-qualified domain name, or URL, you're securing.
Organization: The legally-registered name for your business. If you are enrolling as an individual,
enter the certificate requestor's name.
Organization Unit: If applicable, enter the DBA (doing business as) name.
City or Locality: Name of the city where your organization is registered/located. Do not abbreviate.
State or Province: Name of the state or province where your organization is located. Do not
abbreviate.
Country: The two-letter International Organization for Standardization (ISO) format country code for where your organization is legally registered.
4. Once this CSR is generated, Delacon will send it to you to submit to your Certificate Authority.
5. Your Certificate Authority will start the domain verification process and an email will be sent to the admin contact mentioned in the WHOIS database for the domain.
A WHOIS database stores contact info for the owners of all registered domains. Please make sure this is up to date.
6. Once verification is completed, the SSL certificate and keys will be provided.
When downloading the certificate files, make sure to select the option for the 'Apache' serve option.
7. Delacon will need to create new records for the new URL and configure the above certificate and keys. You will be required to provide Delacon:
Step 2: Logging In
---
Once you have provided the above information to Delacon, pointed your URL at the correct IP and we have finished our configuration work, you can login to your portal.
1. Enter in your URL using the following format:
https://*yourcustomdomain.com*/siteui/login
This is the same URL you will provide to your clients who want to use the portal.
The first time you visit this URL, Delacon's default logos and colours will display: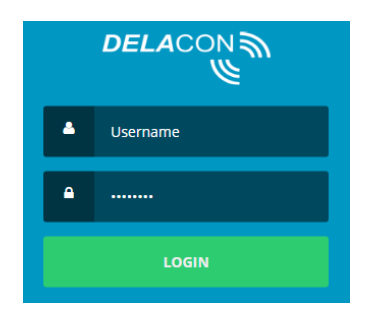 2. Log in using the login details provided to you.
If you have forgotten your login details please contact your account manager
3. Once logged in, you will land on the Dashboard. This is the central hub of your Portal where you can see Key CallTracking data, access all your reports, access all your accounts that have call tracking and edit your White Label settings.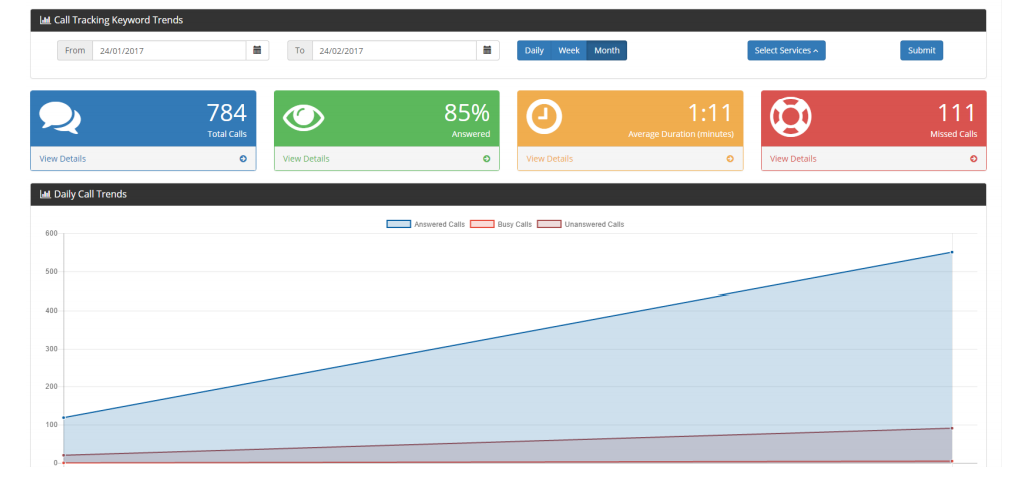 Step 3: Customising your Portal
---
You can start customising your portal to suit your branding and styling. To customise:
1. Click on the gear icon in the top right hand corner and then 'White Label UI'. This will load the White Label Settings page.

White Label Settings Page:
---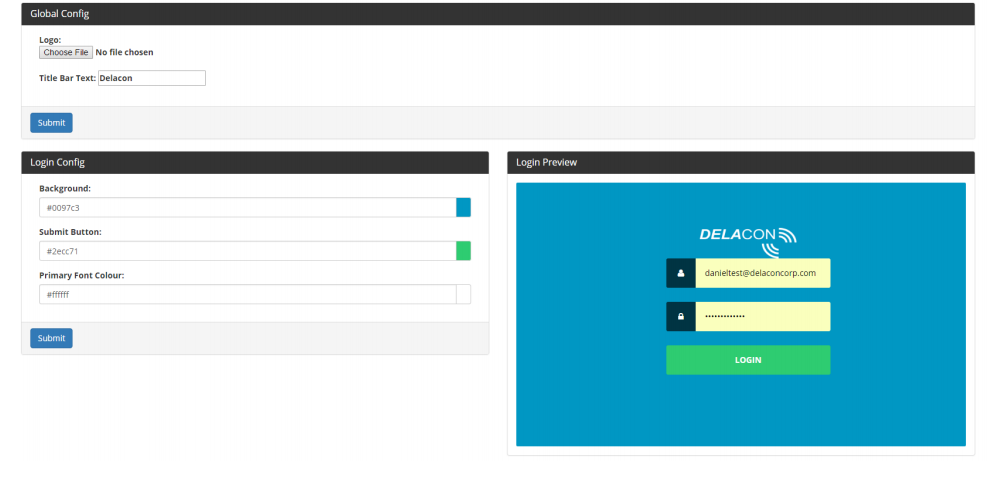 2. To upload your logo, click on the 'Choose File' button in the Global Config heading, and select the relevant file.
Please note: The logo size must be 165W x 52H Pixel.

3. Enter the Title Bar Text (this is the text that appears in the title bar of your web browser) and then click Submit.
Please note: If you configure both the logo and title bar text, you only need to submit once.
4. To select the colour palette for the login page; scroll down to the Login Config section. Click on the row you want to edit and a colour box will open. Select the colour you want. Repeat for the other rows and click 'Submit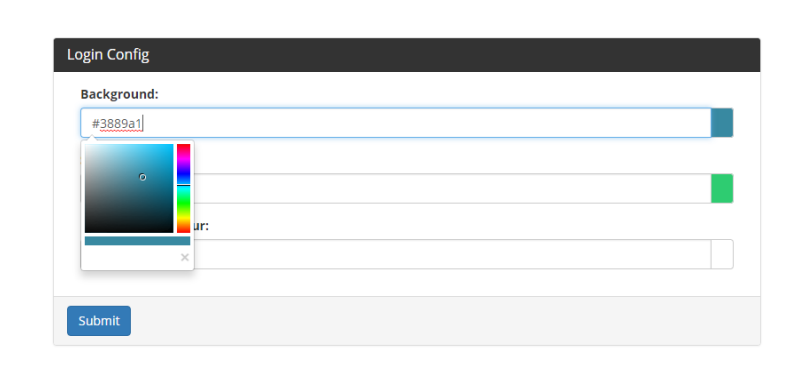 You can see how it will look in the Login Preview section: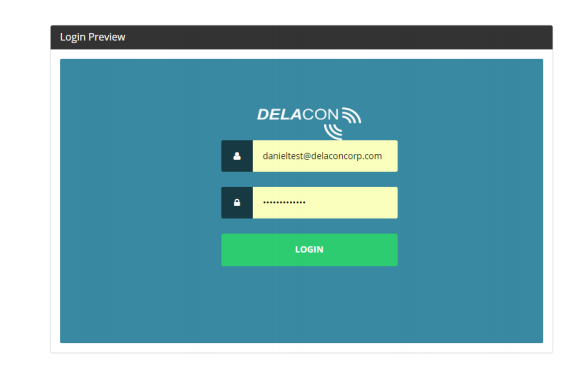 5. To select the colour palette for the main page; scroll down to the Main Config section. Click on the row you want to edit and a colour box will open. Select the colour you want. Repeat for the other rows and click 'Submit'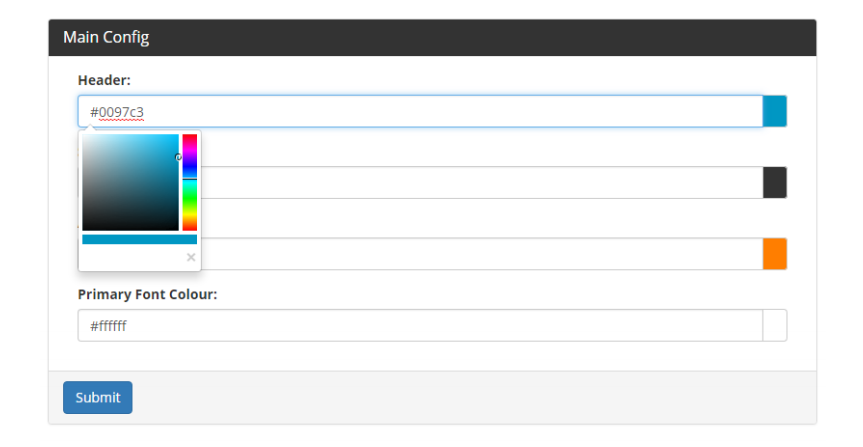 To see a preview of how your Main Screen will look, see the 'Main Preview' section.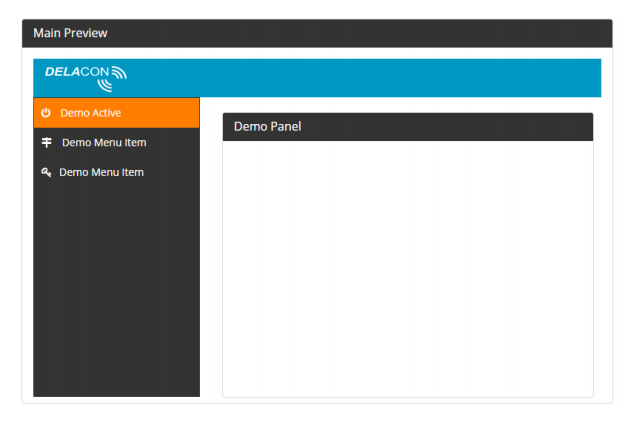 6. Customise which reports are available to your clients by ticking the relevant boxes.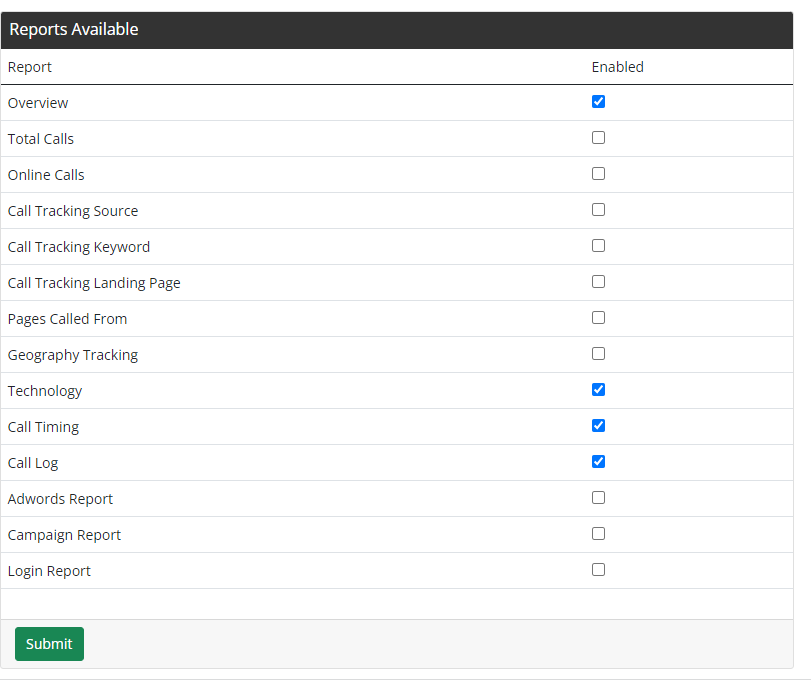 7. Determine the e-mail address from which password reset e-mails will be sent to your clients.

8. By default, the billing and configuration menu that is available in the Delacon portal, will not be available through the whitelabel portal.
9. Your white label portal is now configured.
10. Create logins for your users and customise their access level via the user management tool.
11. Set up automated invoicing so that Delacon sends out invoices on your behalf directly to your clients.
Monthly Fee
---
A monthly fee of $39 is required for the setup and maintenance of your White Label Portal. All three white label features are included (White-labeling of the Delacon Portal, Notification Email and Billing).
Please speak to your account manager regarding the payment of this fee.
Related Articles
Rebilling for Agency and Directory Clients