Introduction
---
Delacon has designed call data transfer to simplify your access to call log data and allow you to
combine call data with other data sources in your own BigQuery instance. In order to activate
calls data transfer, complete the following steps:
1. Find a BigQuery Project ID you want to use for call data transfer
a. you can find project ID in GCP Console > Dashboard > Project Info
b. If you don't have a project, create a "New Project" project dropdown menu
2. Add a Service Account to your BigQuery project
a. go to GCP Console > IAM & Admin
b. add BigQuery Data Editor role for sv-router-syd@appspot.gserviceaccount.com
3. Send BigQuery Project ID and desired Delacon MIDs to your Delacon account team
Locating your BigQuery Project ID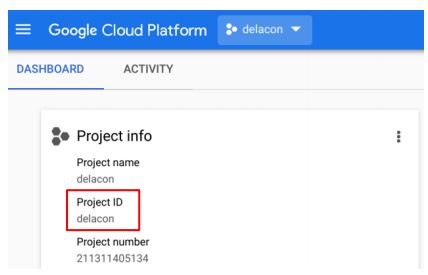 Adding a service account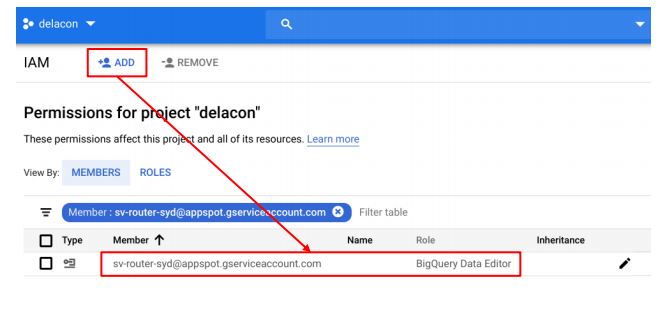 Once the integration has been completed the following fields will be sent to BigQuery for each call.
| | |
| --- | --- |
| Field Name | Description of data |
| eventType | type of event e.g. DELACON_CALL_COMPLETED refers to phone call |
| callStartTime | The time the call started (Inbound call start time) |
| callId | A unique key that can be used to represent the call in Delacon server. E.g. 12345 |
| gaClientId | Requests the Google Analytics Client ID captured for the session. |
| IncomingCallNumber | Caller ID or Caller phone number |
| Account.MasterID | Master Id |
| Account.CompanyID | Company ID (only if cids is specified) |
| Call.Dtmf | Dtmf dual tone frequency signal that a customer keys in via IVR (string) e.g 1 |
| Call.DtmfDescription | Description of Dtmf e.g. 1 for sales, 2 for account, 3 for support |
| Call.Result | Indicates how the call ended, e.g. Normal is Answered, No answer |
| Call.Duration | Duration of call |
| Call.Duration1300 | Duration of call, commencing from pick up by 1300 number (if applicable) |
| Call.VoiceMailLeft | Indicates whether the caller left a voice mail |
| Call.RecordingURL | The URL that can download the recording file (only if showrecurl is specified) |
| Call.DealerId | The Delacon Tracking number dialed by the caller |
| Call.DealerName | The defined name of the CID called |
| Call.DealerCategory | The defined category of the CID called |
| Call.Converted | If the session resulted in a call (when the caller is on your website and the CID is integrated into Google Analytics. |
| Call.TransferredNumber | Termination number which Delacon transfers the calls to |
| Call.Exchange | the exchange or suburb from where the call initiated |
| Call.CallPage | last page the caller saw prior to call |
| user.City | City from where the call initiated |
| user.State | State from where the call initiated |
| user.Number1300 | The Delacon Tracking number dialed by the caller |
| user.SearchEngine | online source used by caller e.g. Google, Yahoo, Bing etc. (if known or applicable). |
| user.Type | Whether the search made by the caller was free, paid, call ext, etc (if known or applicable). |
| user.Keyword | The keyword - if known - that the customer used to land on a website |
| user.DeviceUsed | The device the caller used. |
| user.UserISP | Caller's Internet Service Provider. |
| user.UserIPAddress | Caller's IP Address |
| user.WebsiteLandingPage | The webpage the caller first landed on. |
| user.BrowserType | web browser type e.g. chrome, firefox, etc |
| user.WebsiteReferral | the referral URL of the caller; i.e. what page the caller came from before they landed on your website example: google.com |
| other.SurveyOutcome | Post call sales amount entered by operator (if applicable). |
| other.SurveySalesAmount | Post call outcome survey entered by operator (if applicable). |
| other.CallFeedbackOutcome | Post call outcome survey entered by operator (if applicable). |
| other.CallFeedbackSaleOutcome | Post call sales amount entered by operator (if applicable). |
| other.CookieID247 | Shows the 247 Cookie (if applicable). |
| other.Type247 | Shows the time of the 247 Cookie (if applicable). |
| other.SignalId | Display's Signal's unique ID number (if applicable). |
| other.AdditionalBrowsingDetails | not required, please ignore |
| other.CustomerIntent | Displays customised summary of caller's intent (if applicable). |
| other.Campaign | Captures the campaign from the AdWords ad that a caller clicked on. |
| MessageID | BigQuery creates unique message id for each callid or call |
| PublishTime | The time BigQuery received call event and saved it to BigQuery |
| SavingTime | The time BigQuery received call event and saved it to BigQuery |
| Headers | not required, please ignore |