Introduction
---
Cost per lead (CPL) refers to the Google Ads/AdWords costs to acquire a lead, a lead could be a phone call and/or a web enquiry.
If you are looking to calculate your cost per lead (CPL) for Delacon calls and Web enquiries from Google Ads/AdWords campaigns, ad groups, keywords and search queries, this guide will show how to set this up within Google Ads by creating custom columns.
Set up
Prior to completing the set up, please ensure you have completed the following steps:
Identify your goal completion for Delacon calls and Web Enquiries by following these steps:
Conversions >> Goals >> Overview >> Goal Option (see screenshot below)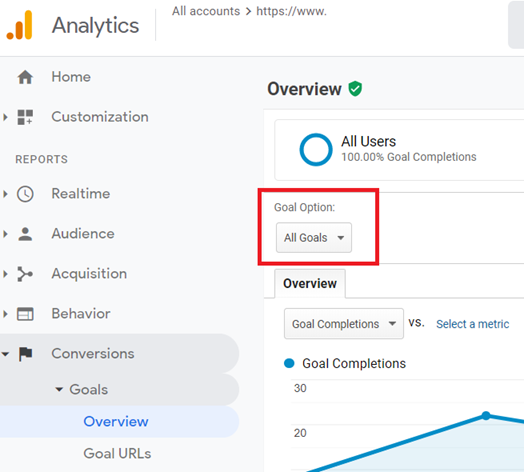 Step 3.
Linking
your Google Ads with Google Analytics
Once you have completed the above, you will need to import Delacon call and Web enquiries from Google Analytics into Google Ads, see the below steps:
Login Google Ads


Click on Tool & Settings from the top right menu

Under 'Measurement' column select 'Conversions'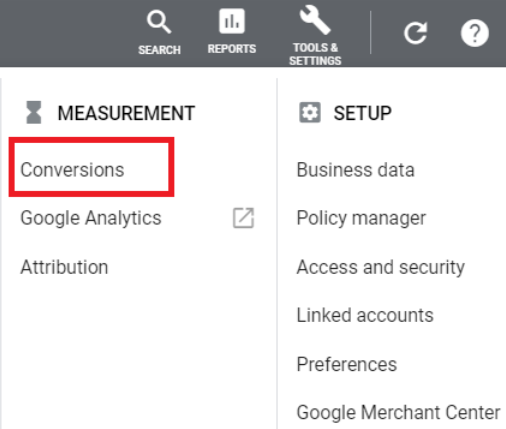 Click on the blue + button to add a new conversion


Select Google Analytics the click continue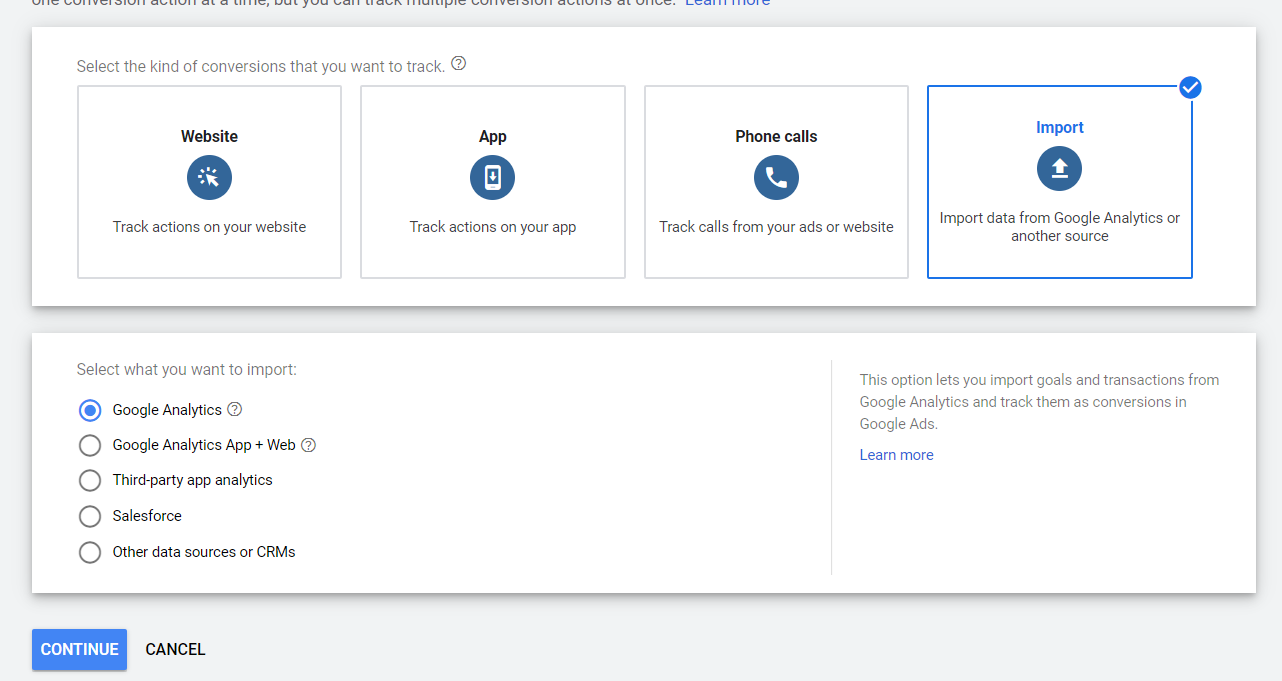 Select the Delacon calls and Web Enquiries as per identified in Step 2 above
Click "Import & Continue"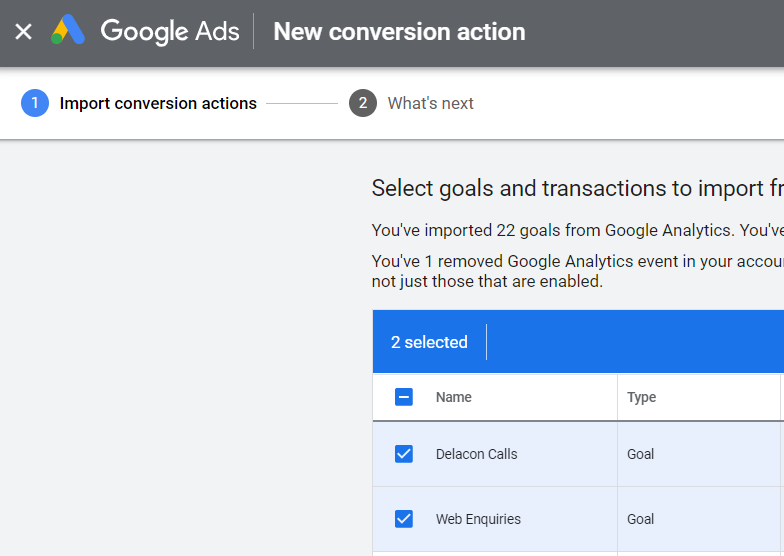 Creating Custom Columns for Cost per Delacon Calls
---
Custom columns offer a quick solution if you're interested in seeing only part of the data for a metric. Custom columns also allow you to make your own metric based on existing metrics in Google Ads, for example 'Cost per Lead (CPL)'
The following steps show you how to create a new metric for 'Cost per Delacon calls', this is essentially your CPL for Delacon Calls
Step 1:
Login to your Google Ads account, click on the Campaigns menu

Click on 'Columns' and from the list select 'Modify Column...'

Step 2: Find and Click on 'Custom columns' then choose + CUSTOM COLUMN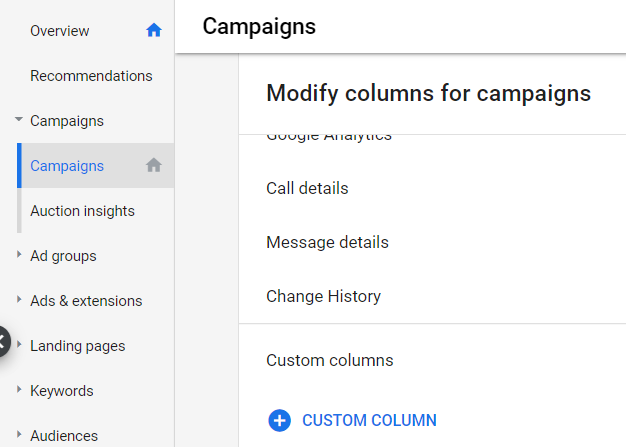 Step 3: Insert a name for your Cost per Lead, for example: 'Cost per Delacon Calls'
Within the Formula field, Insert 'Cost' and select 'Cost' from the list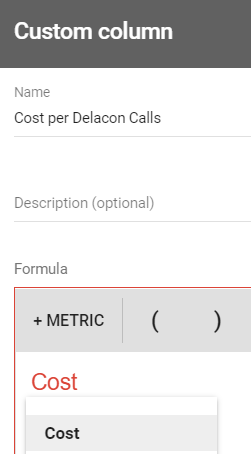 Once 'Cost' is added, Select 'Divide'

Then add 'Conversions' by typing 'Conversions' and select it from the list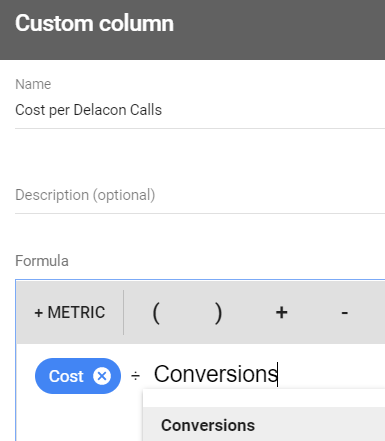 Once 'Conversions' added, within the 'Segment' area on the right side click on the 'Conversions' menu

then click on 'Conversion action'

Find and select your 'Delacon calls' conversion, This will segment your 'Conversions' for 'Delacon calls' only, for example: 'Conversions: Delacon Calls'

Within 'Column format' select 'Money' option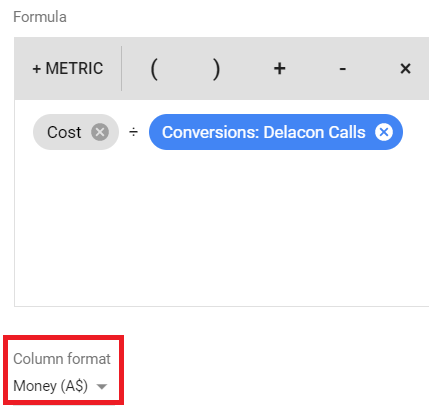 Then click Save
Step 4:
Click APPLY To view 'Cost per Delacon Calls'
Step 5:
'Cost per Delacon Call' should now be available along with other Campaign information

Step 6:
To view Cost per Delacon call for 'Keyword' click on the 'Search keywords' from the menu on the left

If you would like to create Cost per Lead for your Web Enquiries, repeat Steps 2 – 6 using your 'Web Enquiries' conversion action.
See example below 'Cost per lead' for both Delacon calls and Web enquiries

If you would like to see Cost per Delacon calls combined with Cost per Web enquiries, please follow this link
To see Cost per Lead information in Google Analytics please click on this link
If you have any questions or require further assistance, please don't hesitate to contact Delacon support.