Introduction
---
Through a technical integration, Delacon's call tracking solution sends call data into Acquisio so that you can have easy access to all of your campaign performance data in one platform.
You'll be able to more effectively analyse your online campaign performance across all your channels to more accurately determine your return on investment and to make fully informed decisions regarding the optimisation of your campaigns.
It's no longer enough to analyse online web conversion analytics in isolation. As a Marketer, by collecting both web and call data in one platform, you'll be able to more effectively analyse online campaign performance. With the inclusion of call data you'll have a true representation of the success of online campaigns.
Delacon's original integration with Acquisio involved a one-to-one and mapping between a CID and an Acquisio account, meaning data would be pushed to a single account when a call was received. While this was a sufficient process for most Acquisio users, if there were multiple Acquisio accounts in use for one client, only one account could be targeted. This posed a complication to clients with multiple accounts, regions and domains; that had numerous CIDs.
Our latest Acquisio integration which now allows for multiple/mass mapping, we are able to determine which Acquisio account was the source of the visit and push the calls to the relevant account.
The process is predominantly very similar, however clients with multiple accounts can now enjoy greater functionality with all calls seamlessly attributed to their relevant account.
This guide describes the steps to integrate Delacon's call tracking solution with Acquisio.
Set-up and Configuration
---
1. Create an account in Acquisio
If you don't have an account already, you will need to create an account in Acquisio.
Ensure the account has the Acquisio tracking information turned on
We need the following information from the Acquisio account:
FTP host : (It should be dataintegration.clientcampaigns.com)
FTP user :
FTP password :

Acquisio Agency_id : (Please ensure this agency data can be accessed by Delacon user eltDelacon through webservice) "
2. Login to Delacon
Login to your Delacon account.
The direct link is https://vxml5.delacon.com.au/site/jsp/login.jsp.
3. Add Acquisio Mapping
Click on Integrations and then Acquisio.
One Delacon CID can only be mapped to one Acquisio Account

4. Select the CID Business Account
Select the CID Business Account that you wish to integrate with Acquisio and click insert.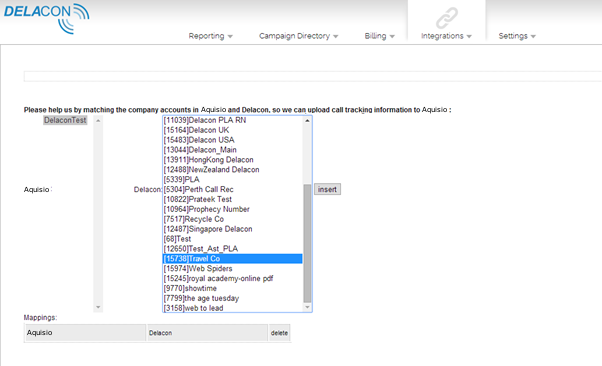 5.Confirmation
Your Delacon and Acquisio accounts are now mapped. If you cannot see the Acquisio account appear, you may have to wait up to 24 hours for the Delacon system to update your details.
6. Contact Acquisio
Once set up and integration with Delacon is complete, you will need to contact your Acquisio account manager as Acquisio will need to set up a few things for you:
Please contact Acquisio to set up:
Acquisio Unique ID.
The sources specified in the upload file:
Calls with trkid – custom
Calls without trkid – custom
Call summary - custom1
Contact Delacon
---
Sydney

Level 7, 35 Grafton Street
Bondi Junction, NSW 2025
Australia

1300 990 999

New York

Chelsea Capital LLC 377 Fifth Avenue, Ste 500,

New York, NY 10016

+1 855 390 7512

Auckland

Level 10, 21 Queen Street, Auckland,

New Zealand 1010

0800 442 711

Singapore

No. 15 Pioneer Walk

Pioneer Hub Building

Singapore 627753

+65 6690 5155

Tokyo

163-1030,Tokyo, Shinjuku-ku, 3-7-1 Nishi-Shinjuku, 30/F Shinjuku, Japan

00531161336

Mumbai

Level 7, Plot No. C-70, G Block, Bandra Kurla Complex, Bandra, Mumbai 400051,India

0008001005984

London

450 Brook Drive
Reading, RG2 6UU
United Kingdom

+44 330 380 0146

Hong Kong

Level 15 – 16 Nessus Building, 41 Connnaught Road, Central, Hong Kong

+852 3678 9911

Kuala Lumpur

Level 20, 30 Jalan Sultan Ismail, 50250, Kuala Lumpur, Malaysia

1800 817 306