Introduction
---
By using Google Tag Manager, marketers can upload and edit their website's tags with ease. You'll no longer be reliant on a web developer or web master to edit the hard code on your website. From a user experience, tag managers are a good idea because the overall load time of your website may be faster than adding all the different tags directly onto the website.
After you've created a GTM container specific for your website, you'll need to copy the container snippet and paste it onto every page of your website below the opening body tag. Once the Google tag is live on your site, all other marketing or measurement tags can be added and edited using the easy-to-use Google Tag Manager interface.
This concept is of particular interest to marketers that would like to track calls because Delacon's call tracking solution relies upon a snippet of code being installed on the web pages. Instead of placing the call tracking code directly onto your website with the assistance of a web developer, a variation of this code can be loaded into Google Tag Manager.
This guide will describe the steps involved to load Delacon's call tracking code into Google Tag Manager.
1. Login to Google Tag Manager
Login to your Google Tag Manager account .
2. Click on new tag
Click on the 'Add a new tag' tab.

3. Select Custom HTML Tag
Select Custom HTML Tag.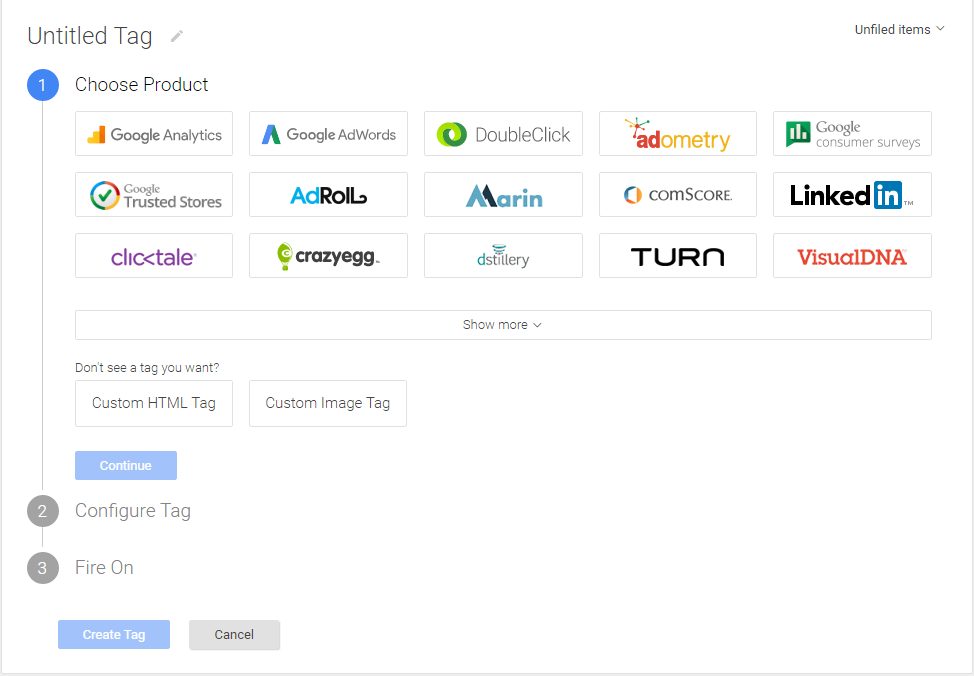 4. Enter in the Delacon code
Copy the call tracking code from below, replacing the CID and MID with your relevant details.
Paste the code into the HTML box and click continue. It's important to include the script tags.
NOTE: Do not just copy and paste the below tag in. You must update the code with your relevant MID and CID details.
Delacon call tracking code
<script src="//vxml4.plavxml.com/sited/ref/ctrk/MID-CID" async></script>
If you have multiple CIDs, the line of call tracking code will look like this:
<script src="//vxml4.plavxml.com/sited/ref/ctrk/MID-CID1-CID2-CID3-CID4" async></script>

Note: Depending on the security variant of the domain i.e. https or http, the code will need to have the same security variant in it.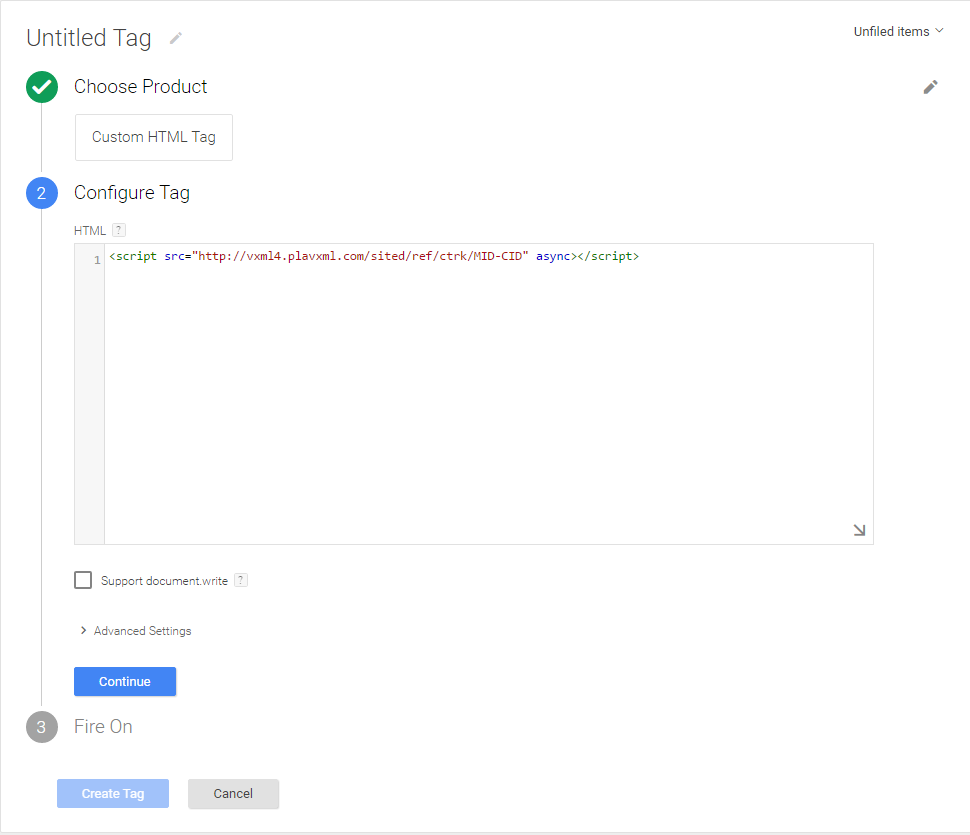 5. Choose where you want the tag to fire and create tag
Choose what part of your website you want the tag to fire on by selecting one of the five options below.
Once selected, click 'Create Tag'.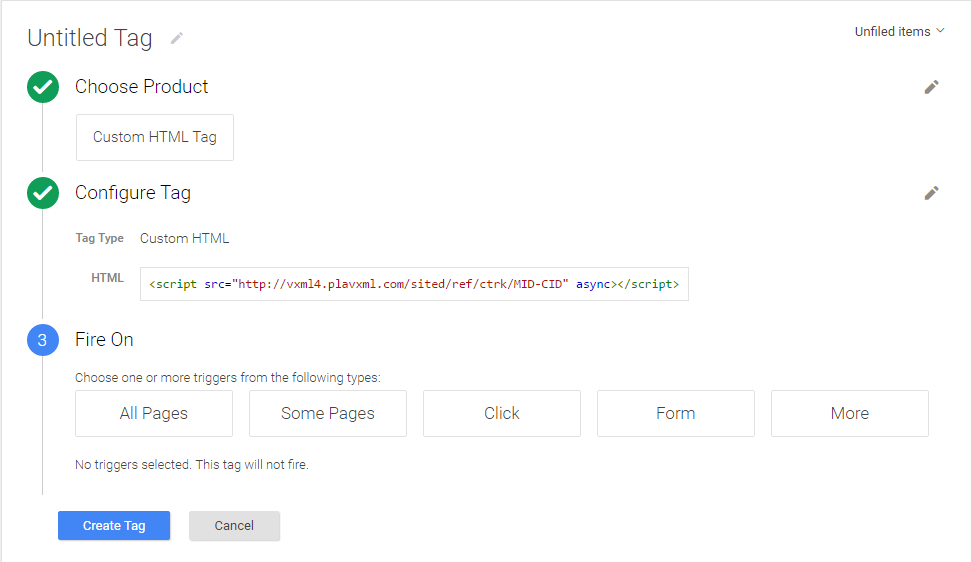 6. Rename your tag
Name your tag and click save: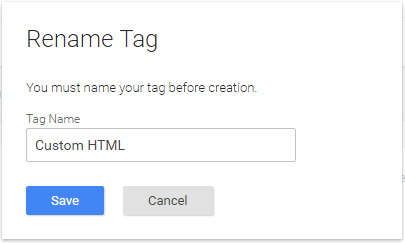 7. Your code is loaded
The Delacon call tracking code is now loaded to Google Tag Manager.
8. Updating your business phone number
You will also need to make sure you update your business phone number in the Delacon Portal to match the exact formatting of the phone number displayed on your website. For e.g. if your number is displayed on your website as:
(02) 12 34 56 78
then the number in the Business Phone Number field must be displayed as:
(02) 12 34 56 78
You can login to the Delacon portal at http://pla.delaconcorp.com/site/jsp/login.jsp
Navigate to the CID you want to edit and click on Edit under the Service ID column:

This will display the 'Edit Service' screen. Here you can edit and configure a number of call tracking settings – including your business phone number.
Scroll down to the Business Phone Number field and enter your businesses phone number as it is displayed on the webpage:

Once you have updated the Non-Tracking Number, click 'Submit'.
Appendix
---
In order to avoid any potential mismatch with organic searches (paid is not affected), we need to ensure on pages with multiple codes that the CID version of the code loads before the MID only version of the code. The simplest way to do this is to have a short delay on the MID only code across the site so that the CID code always loads first where it is present. This will not affect the number dynamically updating as the configuration is not applied to any code that has a CID.
This can be done in GTM by using a trigger timer for the MID only code instead of using all pages trigger. This should be configured with a 2 second (2000 millisecond) delay and enabled though regex on all pages, as below:
More information on configuring this trigger can be found here: https://www.analyticsmania.com/post/timer-trigger-google-tag-manager/