Introduction
---
Delacon's Marketo Integration allows phone calls to be captured by Marketo in the same way web form inquiries are. This allows Marketo to use phone call activity and web activity in the same way.
By combining calls alongside clicks and other online activity, your marketing automation software can make better decisions with all the information available.
To set up the integration, you will be required to make some configurations within Marketo.
Step 1 – Creating a new user
---
1. Login to the Marketo admin user's account.
2. In the top menu choose Admin → Security → Users & Roles.
3. Click the 'Roles' tab and then select 'New Role'.

4. Choose a name for the role. A description is optional.
5. Make sure to select the box 'Access API'.
6. Click 'Create'.
7. Click the 'Users' tab and select 'Invite New User'.
8. Choose an email address and a name for the new user (using a unique email address) and click 'Next'.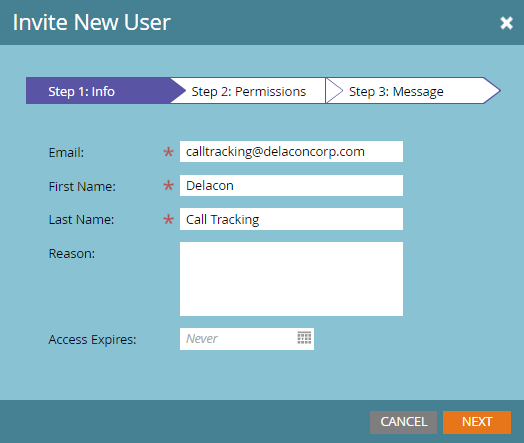 9. Tick the boxes next to 'API Role and 'API Only and click 'Next'.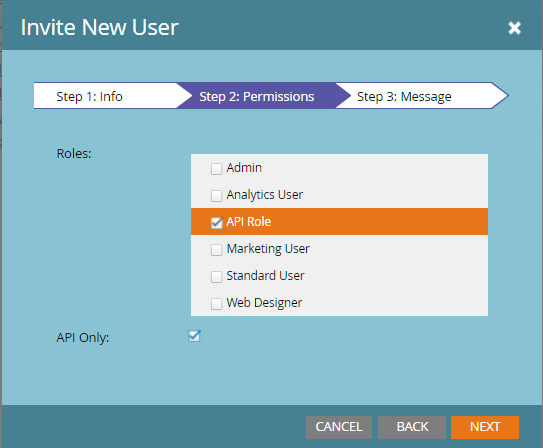 10. Click Send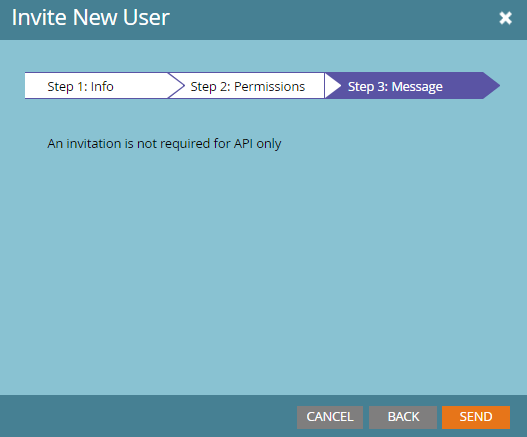 Step 2 – Creating a service
---
1. In the top menu select 'Admin' → 'Integration' → 'LaunchPoint' and select 'New' → 'New Service'.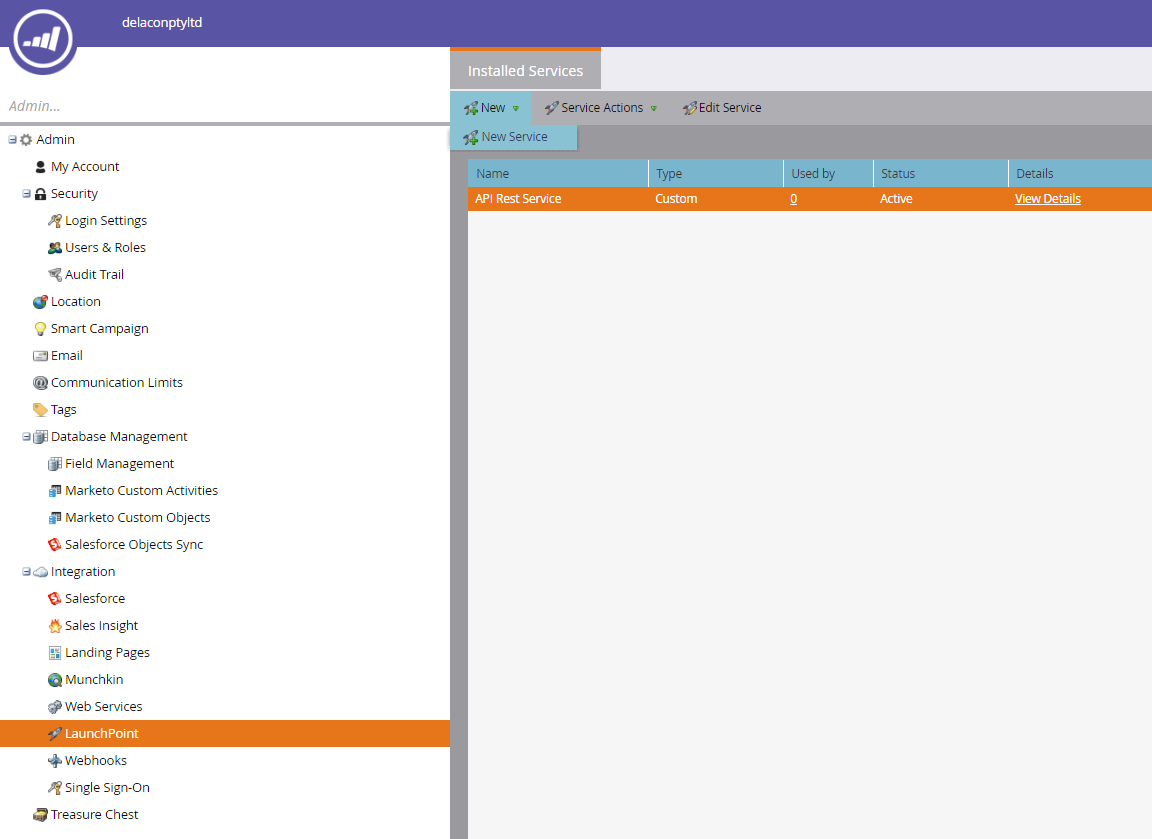 2. Choose a display name for the new service, such as 'DelaconCallTracking' and set the service to 'Custom'.
3. Set the description to anything you want and enter the email address you used earlier when inviting the new user.
4. Click 'Create'.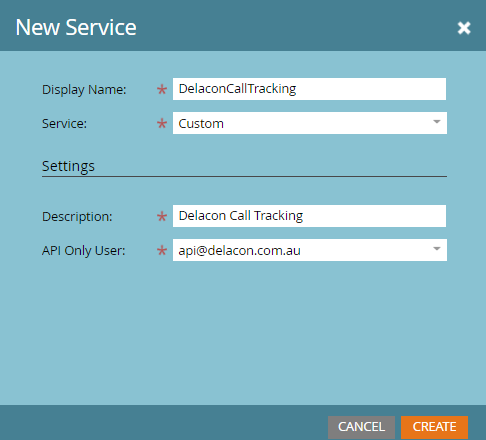 Step 2 – Entering Integration Details
---
In order for the integration to work, you will be required to provide the below information to Delacon:
Client ID
Client Secret
REST API Endpoint
REST API Identity
Accessing the Client ID and Client Secret
Click on Admin → Integration → Launch Point, select the service you just created and click "View Details"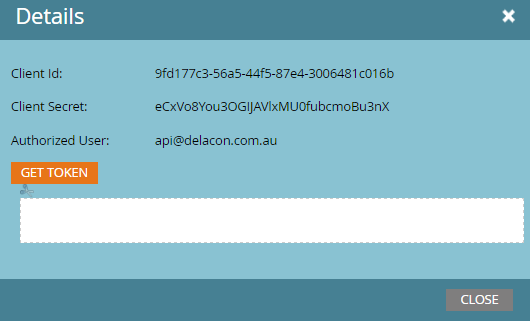 Accessing the Domain
The domain details can be found in the URL bar from any Marketo page. Simply copy the text from the start of the URL up to 'marketo.com'.

Accessing the REST API and REST Identity:
Click on Admin → Integration → Web Services.
The REST API and REST Identity can be found on this screen.

Step 3 – Creating Custom Objects
---
Once the integration is complete, you can add custom objects in Marketo so you can use this additional data.
Login to your Marketo admin account again.
Select Admin → Database Managent → Marketo Custom Objects and click on 'New Custom Object'.
Create a display name (such as 'Call' or 'Phone Call') and enter a description if you wish. Do not edit 'API Name' or 'Plural Name' and set 'Show in Lead Detail' to 'Show' and click 'Save'.
Select the new custom object in the field on right and click the 'Fields' tab.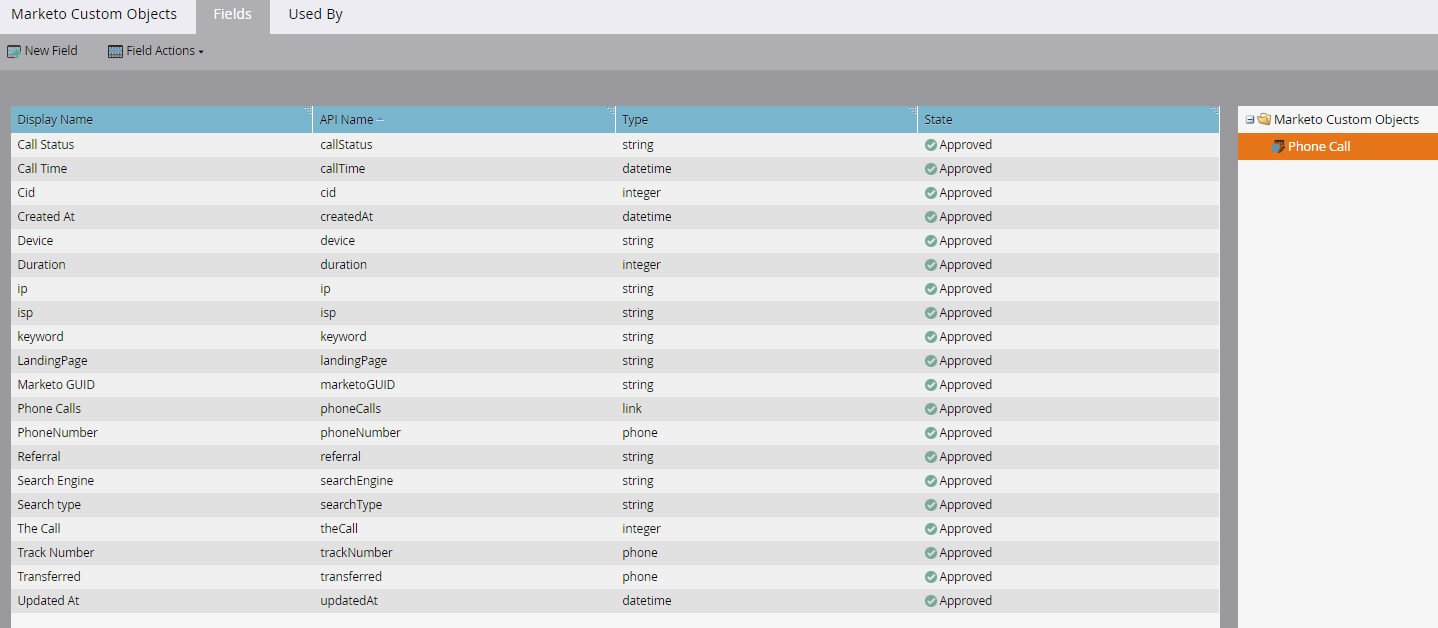 5. Note all custom objects are required to have a field so leads can be linked back into Marketo:
Display Name (Can be anything you want)
API Name (must match Display Name)
Data Type
Link Object
6. To add additional fields to the custom object, click on 'New Fields'
7. New fields to add: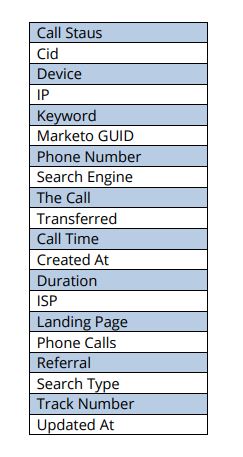 8. To publish, right-click the custom object in the list on the right and select 'Publish'.
Finding the call information in Marketo
---
Navigate to Lead Database → System Smart Lists → All Leads
Search for phone lead.
Click on phone lead.
Navigate to 'Custom Object' and select 'Phone Call'.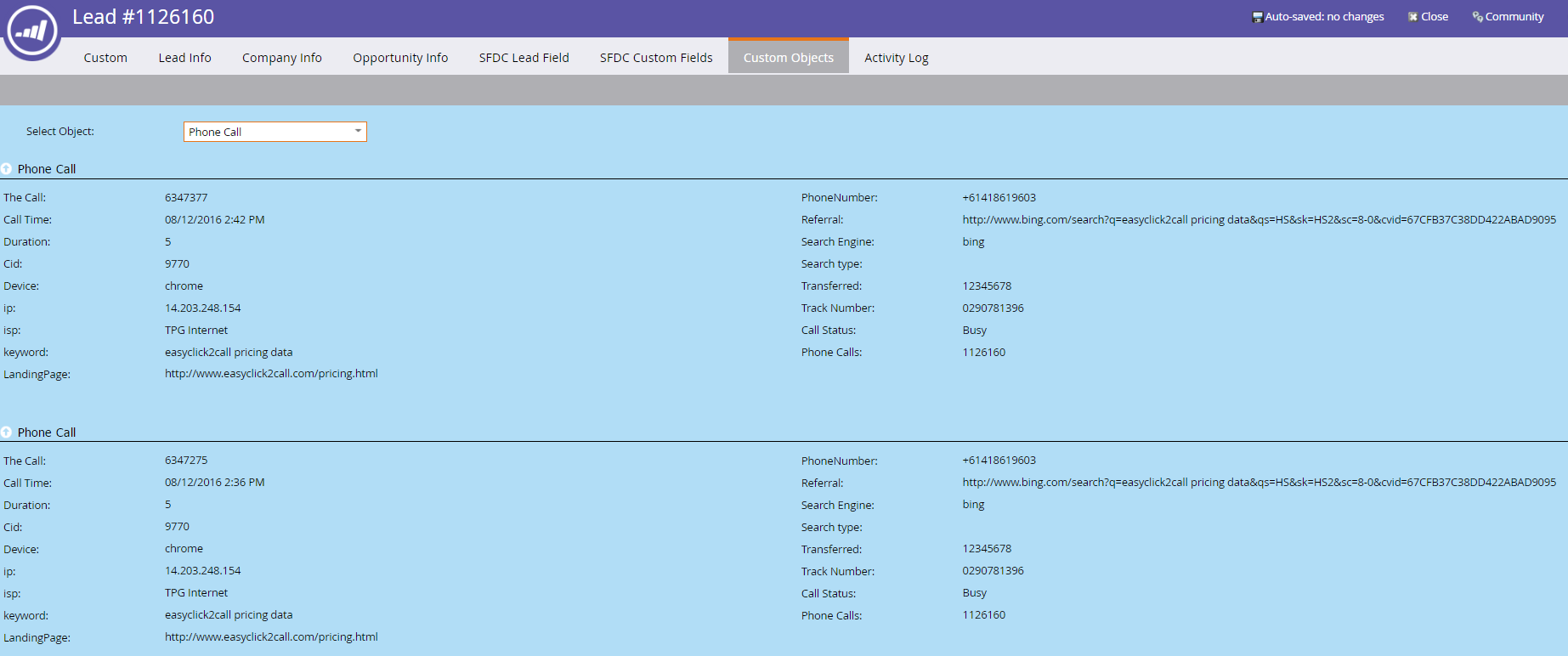 5. The phone call details will now be displayed:

Contact Delacon
---
Sydney

Level 7, 35 Grafton Street
Bondi Junction, NSW 2022
Australia

1300 990 999

US

1430 Truxtun Ave
Bakersfield, CA, 93301
United States


+1 855 390 7512

Auckland

2 Kingsland Terrace

Kingsland, Auckland 1021
New Zealand

0800 453 381

Singapore

No. 15 Pioneer Walk

Pioneer Hub Building

Singapore 627753

+65 6690 5155

Tokyo

KDX Nogizaka Bldg, 4F
Roppongi 7-2-29
Minato-ku, Tokyo 106-0032
00531 16 1336

Mumbai

Level 7, Plot No. C-70, G Block, Bandra Kurla Complex, Bandra, Mumbai 400051,India

000800 1005 984

London

20-22 Wenlock Road
London, N1 7GU
United Kingdom

0843 849 2708

Hong Kong

6/F Yen Sheng Centre
64 Hoi Yuen Road
Kwun Ton, Hong Kong

+852 3018 8505

Kuala Lumpur

Level 20, 30 Jalan Sultan Ismail, 50250, Kuala Lumpur, Malaysia

1800 817 306