Delacon's automated reporting allows you to automatically send the call reports from your account to nominated email addresses on a daily, weekly or monthly basis. This allows you to schedule when you receive your call information to a time that is convenient for your reporting needs.
There are 2 automated report types available:
Detailed Call Report - This is an itemised report containing the particulars of each call in the report period.
Call Summary Dashboard Report - This is a summary report of the call totals per number during the reporting period.
If you would like to set up an Automated Report, please log into the Delacon portal "here" and follow the steps below.
1. On the left hand side menu, click on the Configuration Menu and select Automated Reports

2. click Add New on the right hand side
3. Complete the required fields for the report configuration:
From Email - The email address the report will come from. If you wish for the report to be sent from your own email address, please contact support@delaconcorp.com
To Email - The email address(es) the report will be sent to. Please ensure to hit "Enter" to confirm each e-mail address. If successfully entered, the e-mail address will appear within a dark grey box.

Start Date - The day the first report will be sent
Frequency - Whether the report should be received daily (last 24 hours), weekly (last 7 days) or monthly (date to date eg 1st to 1st)
Send Time - The time of day the report will be sent
Report Format - The format of the report, which can be attached as a PDF or CSV file, or shown as HTML in the body of the email.
Email Body - The content that will be sent in the email body. If you have selected the HTML Report Format option, placeholder text will be added to the body and should not be removed.
Select CIDs - The CIDs applicable to the report you are creating. You can search for individual CIDs either by their digits or the business name.
Report Fields - The data fields that will be included in the report. Not needed information can be removed as required
Filter Call Types (Detailed Call Report Only) - The types of calls that are included in the report. Normal (answered), Busy and No Answer calls can be included/excluded as needed.
Password Protected File - If selected, the reports will be added to a .zip archive and will require the password you have defined to open the file.
4. Click Save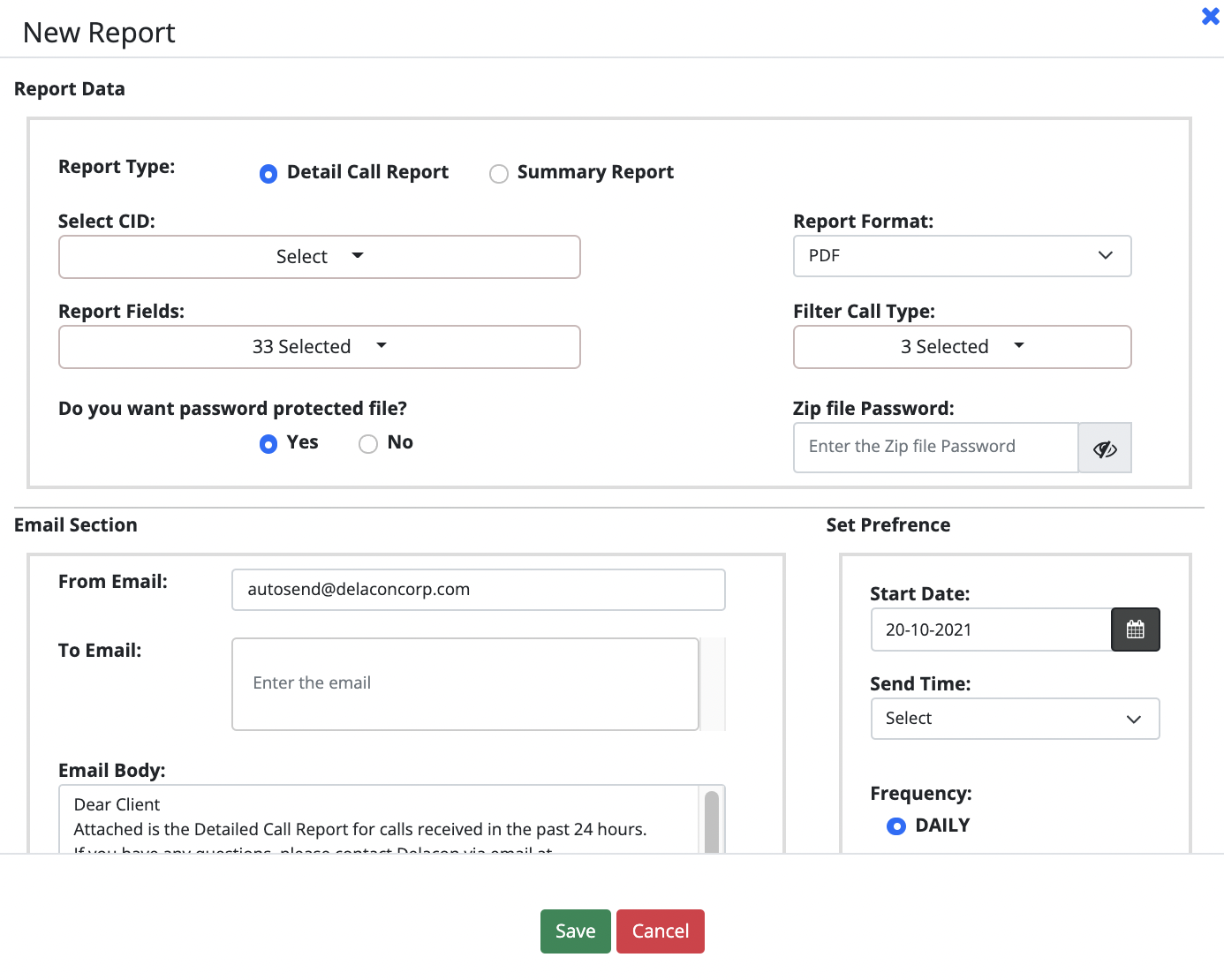 If the report was created successfully, it will say so on screen. If any fields were missed, the system will highlight them for your input.
5. Making changes
Once successfully created, a summary of the report settings will appear on the main page, where you can also further see the details, edit or delete the report.

If you have any questions regarding Automated Reports, please email support@delaconcorp.com