Introduction
---
Delacon's integration with Zapier gives you access to over 750 App integrations including Salesforce, Microsoft Dynamics, Mail Chimp, Wordpress, Gmail, Facebook and more!
By using our integration, you can create Zaps for as many apps as you require – allowing our call data to be used by multiple platforms.
Please note that Delacon does not control what data the other Apps can receive. We simply push our call data into those apps using the Zapier integration.

Beta Mode
---
Currently Delacon's Zapier integration is in Beta Mode. In order to connect to Delacon you will need to be invited by Delacon.
Once invited you will receive an email inviting you to connect to Delacon - please click on the link in the email – the below screen will load.
Click on 'Accept Invite & Build a Zap' button.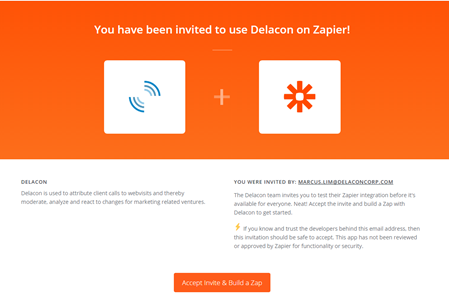 Figure 1
On the next screen, click on the 'Create this Zap' button then continue as per 'Step 2 – Creating a Zap', and scroll down to point 3.

Figure 2
Step 1: Login
---
Go to https://zapier.com/app/login and enter your login details: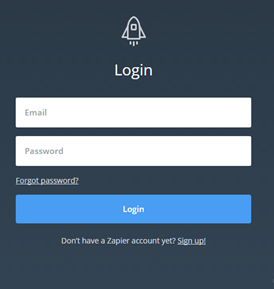 Figure 3
Step 2: Creating a Zap
---
In order to use Delacon's call tracking solution with Zapier, you will need to create a 'Zap' between Delacon and the app you are integrating with.
Zaps are Workflows that connect apps so they can work together. They start with a trigger (such as a phone call) or an event that kicks off your workflow.
To create a Zap:
1. Click on the 'Make a Zap' button: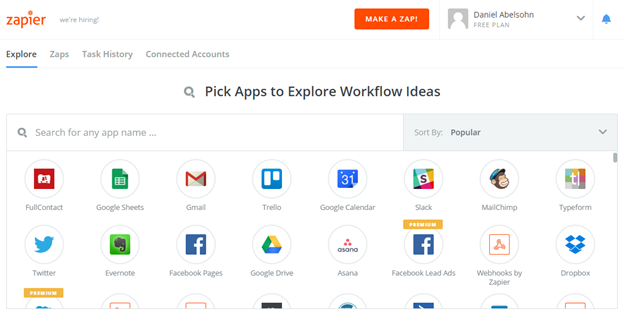 Figure 4
2. Find the Delacon App by searching for 'Delacon' in the search bar: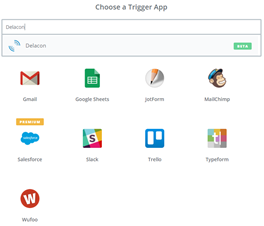 Figure 5
3. Select the Delacon trigger 'New Calls' and click 'Save + Continue':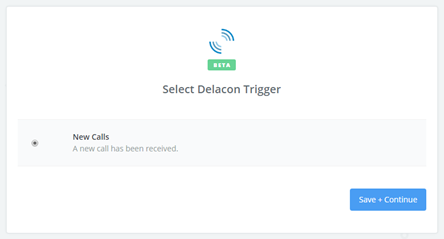 Figure 6
4. Select your Delacon Account by clicking on 'Connect a New Account':
Please note if you have already registered you can select an existing account and skip to step 7.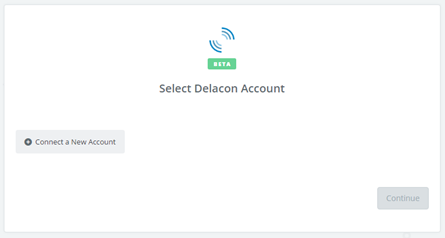 Figure 7
5. A 'Connect Account' pop up box will open. Enter your Delacon account details and press 'Yes and Continue: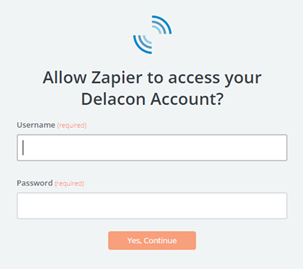 Figure 8
6. Once your account is connected, click 'Continue':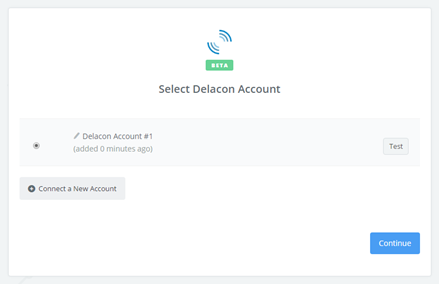 Figure 9
7. Select the Delacon CID you want to connect to by clicking on the down arrow or typing it into the search bar. You can select multiple CIDs by clicking the + button. Once all CID you want to connect are selected, click 'Continue'.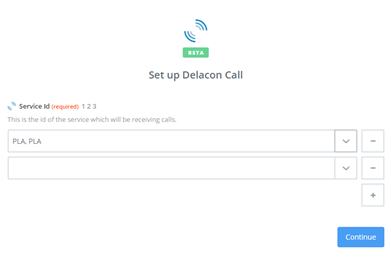 Figure 10
8. Click 'Skip Test & Continue':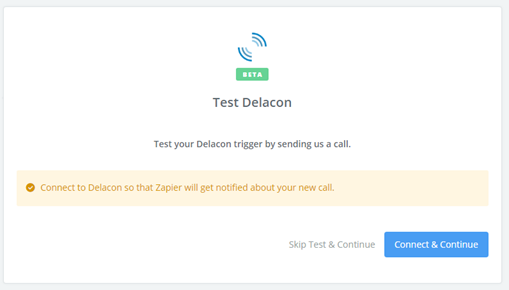 Figure 11
Please not that due to the method we push data, testing on the Delacon trigger doesn't work at the moment. Skipping the test is required to proceed with building the Zap at this point in time. It won't impact the functionality of the Zap.
9. Once test is Skipped, click 'Continue'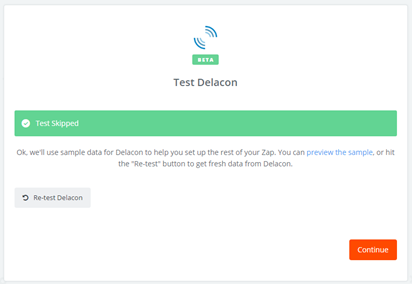 Figure 12
Step 3: Selecting an Action
---
You will now need to setup the action/s you want your Zap to perform. Often this will simply be the App you are pushing Delacon data too.

Step 4: Search for the App
---
Type in the App name in the search bar and click on it to continue: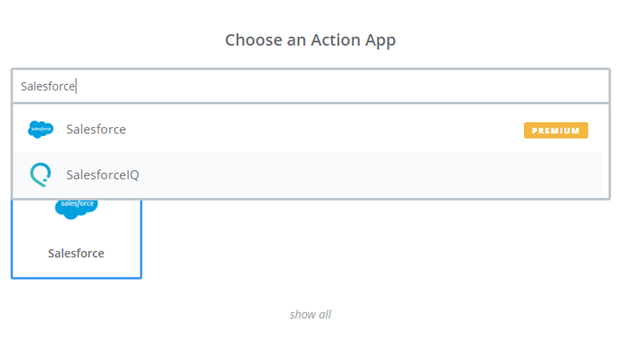 Figure 13
Step 5: Setting up App Action
---
You will need to setup App Action. This is specific for each App you are setting up. For example if connecting the Delacon Zap to a CRM, the Action might be 'Create a lead' or 'Create a Contact'.
Once you have selected your action, you will need to connect to your App Account. Once connected, select 'Save + Continue'.
Step 6: Setting up a Template
---
Once you have set up your action and connected your account, you will need to setup a template. Again this is specific to each App that you connect to.
Once completed, click on 'Continue'.
Step 7: Turning Zap on
---
In order for your Zap to work and the integration to be completed, you need to make sure you turn your Zap on. Simply click the 'on' button to turn it on.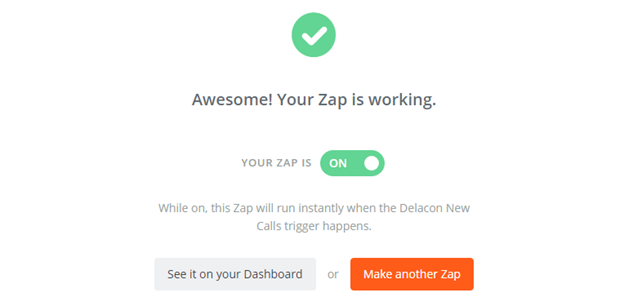 Figure 14
Your Zap is now turned on and you are ready to start receiving call data. It is important to make sure you test the data coming through is accurate and correct.
Glossary
---
Please see the link below to our glossary on parameter names for our data fields and a description of each field.