Option 1: Manual method (one-off payment, no Paypal account required):

Step 1: Login to your Classic Delacon account.

Step 2: Click on the Billing Tab and click on PayPal Top Up.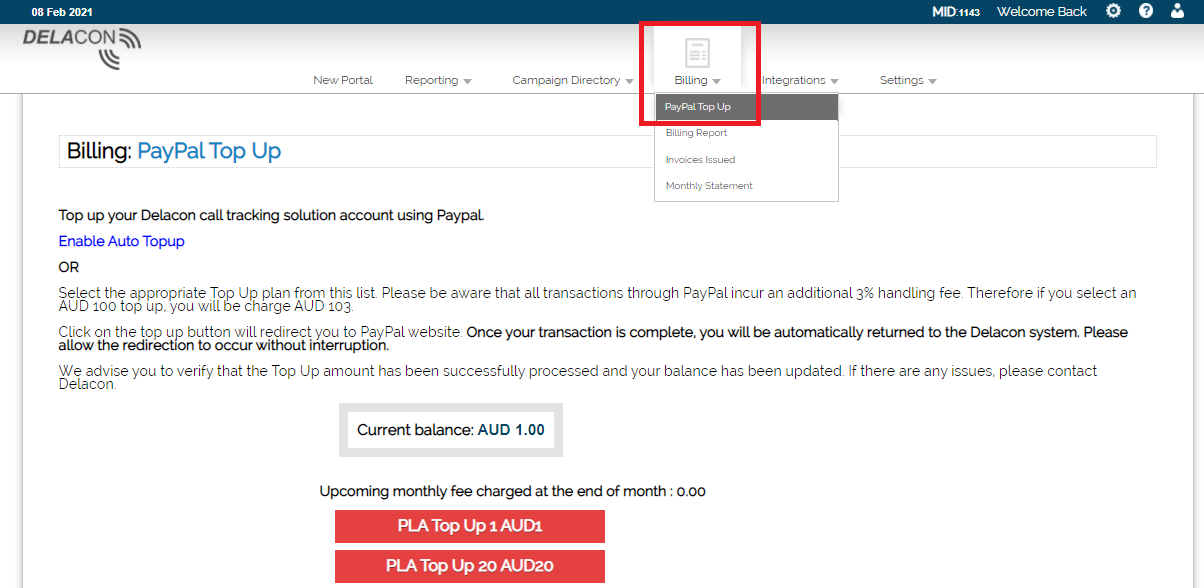 Step 3: Choose the amount you wish to top-up and click on the respective red button.

Step 4: The system will redirect you to PayPal to complete the process. Please note, you do NOT need a Paypal account to complete the transaction. There is an option to complete it as a guest with a credit card.

Option 2: Automatic Method (regular payments, PayPal account required):
With the auto top-up feature, Delacon will automatically top-up your account with a set amount (by default $100) whenever your balance passes a certain threshold (by default $30) and charge it against your Paypal account. The top-up amount and the threshold can be adjusted based on account usage.
Step 1 and 2 : Follow steps 1 and 2 as above.

Step 3: Click on 'Enable Auto topup' (the system will redirect to PayPal site).

Step 4: Login with your PayPal login details.

Step 5: PayPal Agreement screen will show up highlighting the direct debit details.

Step 6: Accept the agreement (you will be redirected back to Delacon Portal).

Step 7: Once redirected, the Delacon portal page will show the billing agreement ID (This is for your reference only).