Introduction 
---
Delacon's AdWords Integration allows you  view Delacon phone call data in the Delacon portal. This enables you to  understand which campaigns and keywords generated phone calls and the AdWords  cost associated with that specific phone call. 
Please note this integration does not allow  you to manage your AdWords campaigns from the Delacon Portal – this must  continue to be done from AdWords. This integration enables you to view AdWords  data that is associated with Delacon phone call data.
We have also included a guide on how to add  the keyword valuetrack parameter at the end of this guide.
The keyword valuetrack parameter is  important to include as it allows you to add AdWords keywords into the Delacon  portal.
Before you start:
Please disable any ad blocking software used in your browser while completing the integration steps.
Step 1
---
Login to the Delacon portal at https://pla.delaconcorp.com/site/jsp/login.jsp
Step 2
---
Navigate to "Reporting → Integrations" 

Step 3
---
After login, click on "Link Service - New  AdWords Authorization"

Step 4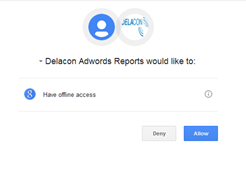 Step 5
---
On the next screen enter your Delacon login  details again:

Step 6
---
You now  need to map the Service ID with the Adwords ID.


To do  this, check the box for each service ID you want to map then click "Map  Configuration"

Once Mapped a pop up box will display:

Click "OK" 
Step 7
---
This completes the integration. 
Once integrated, the AdWords data will be  available for AdWords generated calls which have Google Click Id (gclid) in the  landing page. Data will generally be available from the next day following the  integration.
Please note the AdWords data is only  available after next day after 7AM Australian Eastern Daylight Time.
See below for instructions on adding keyword  value track parameter at a template level
Adding keyword value track parameter at a template level
---
In April 2014, Google removed the keyword  query from the referrer information. The referrer is a URL that identifies  where a user who visits a web page came from and can include such information  as the exact keywords a user put into a search engine.
Marketing teams regularly use this data to  optimise online campaigns and identify additional keywords.
In most cases, Delacon's call tracking  solution uses this query in the referrer to obtain keyword data.
You can now setup your keyword value track  parameter at a template level. This allows you to set this up once only, and not  for multiple ads.
Step 1
---
Sign in to your AdWords account.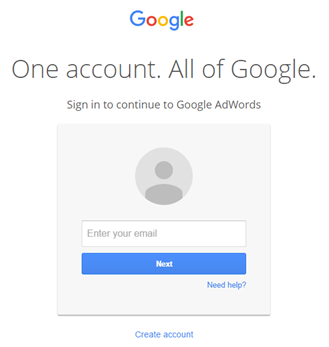 Step 2
---
Click the Campaigns tab
Step 3
---
In the menu on the left hand side, click on 'Shared library'
Step 4
---
Click URL options
Step 5
---
Next to "Tracking template," click Edit.

Step 6
---
Enter {lpurl}?keyword_k={keyword} and press save