Delacon's AdWords Call Extension Integration allows you to view Google Ads data for your call extensions in the Delacon portal. This enables you to understand which campaigns and keywords generated phone calls and the AdWords cost associated with that specific phone call.
Please note this integration does not allow you to manage your AdWords campaigns from the Delacon Portal – this must continue to be done from AdWords. This integration enables you to view AdWords data that is associated with Delacon phone call data.
The integration consists of three parts:
Part I: Assign the Delacon call extension numbers to your ad campaigns in Google Ads.
Part II: Complete Parts I and II of the Adwords integration.
Part III: Map your Delacon call extension numbers (CIDs) to your Adwords campaigns. This step is required for each new CID.
NOTE: All Call Extension numbers effectively will need to be mapped twice - once within the Google Ads integration page and once in the Google Ads Call Extension integration page.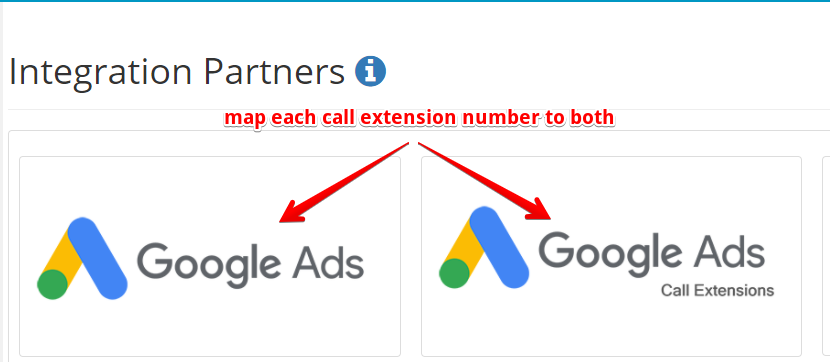 Part III - Mapping your Delacon campaigns (CIDs) to your Adwords campaigns
Step 1
Ensure you have completed Parts I and II before continuing.
Step 2

---
Step 3

---
Step 4
Find the relevant MCC or Adwords account from the pop-up and click on it.

---
Step 5
Map each tracking number and the correct Adwords accounts by ticking the boxes. You can map multiple numbers to an Adwords ID at the same time.
Also confirm whether you have enabled Google Forwarding (GFN) in the Adwords account for this number.

Once all relevant boxes are ticked, click on Submit.
A pop-up will appear confirming that the integration was successful. You will automatically be re-directed to the integration's main page and the mapping will be listed there.
If you receive an error message, please review our troubleshooting steps further below.
---
Troubleshooting unsuccessful mappings:
| | |
| --- | --- |
| error message | solution |
| Numbers that are used for website tracking cannot be used for call extensions. Please select another CID or create a new dedicated CID for use in your call extension campaigns | For accurate reporting, tracking numbers should not be used for tracking multiple channels, eg. website and call extensions. The system automatically detects when a CID has rolling numbers (more than 1 tracking number) and will block the CID for this integration. Please create a dedicated number (CID) for call extension tracking. |
| | |
Related Articles: